Shewee, this is going to be an in-depth review! And one that I have been itching to do for weeks. It is my review on the All Day Chic Colour Collection from Elizabeth Arden
For Christmas I bought myself this magnificent Elizabeth Arden All Day Chic Colour Collection (Maquillage Elegance). It was on Christmas special
for R995 when the actual worth of the products
is well over R3500. I wanted to get this review out quickly because the set is STILL available, so before you even read on, go out and buy it, I swear you won't regret it!
Basically, I was aimlessly wandering the aisles of the Blue Route Mall Edgar's when I spotted a gorgeous gorgeous lipstick. I have an odd obsession with wanting to find
a dupe of MAC's Rebel (even though I have spent well over MAC Rebel's R195 pricetag in order to accomplish my goal). The colour before me was Elizabeth Arden's Ultra Violet.
"No, you cannot try that on, it is for display." says the saleslady.
"But I must." I said
"But look
at this lovely special
," she says, "if you buy it you can wear the lipstick everyday."
So I, not being one
to turn down a special
offer (especially one involving high end make-up), take a look at the offer before me and I fell in love.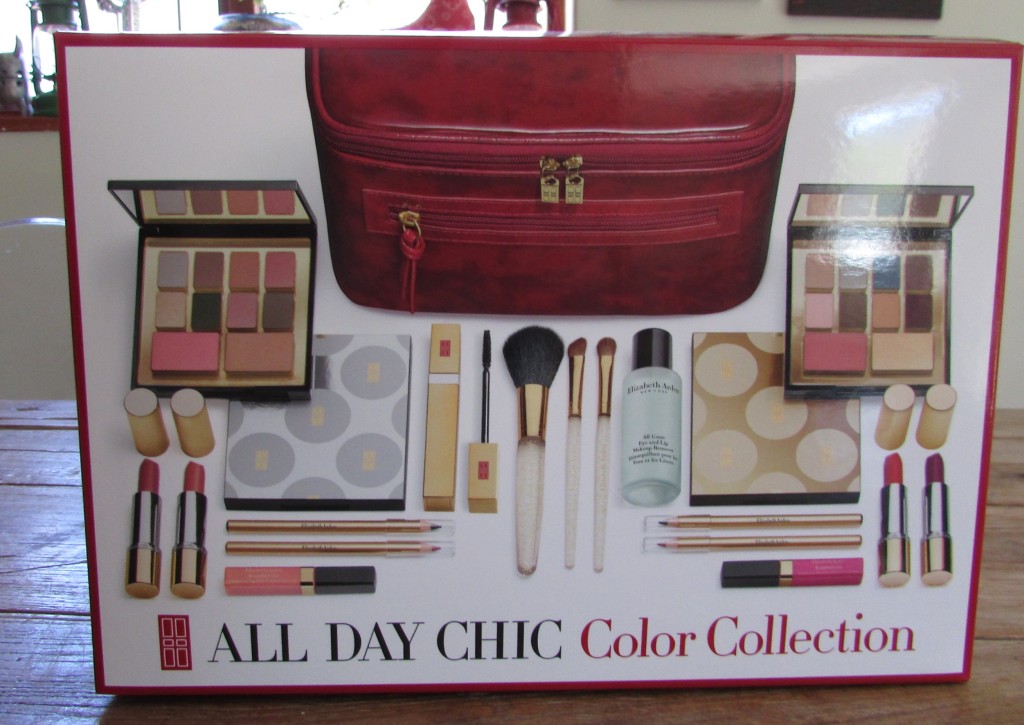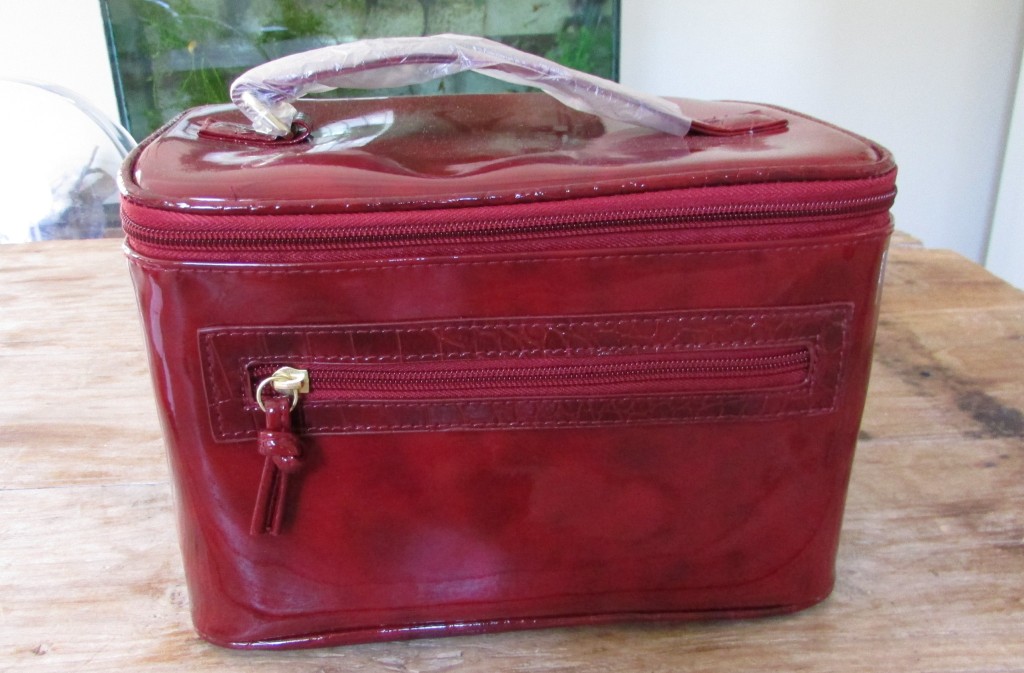 All Day Chic Colour Collection from Elizabeth Arden – red patent travel bag
Play Deluxe
Eyeshadow Palette
Work Deluxe Eyeshadow Palette
3 Piece
Brush
Set
– 1 x Powder
Brush, 2 x Eyeshadow Brushes
4 Moisturizing Lipsticks
2 Luminous Lip
-glosses
2 Lip Pencil/Crayon's
2 Eye
Pencil/Crayon's
Lash Enhancing Mascara in Black
All
Gone Eye & Lip Makeup remover
So to make this post shorter
than the original 4000 word novel I originally wrote, I have instead swatched and taken pictures of all the items.
Please
note I took pictures the day I purchased the items, which is why they are in pristine condition, and not after I had already used them.
Brush
Set: A simple 3 piece brush set which I am yet to use and I may end up gifting
to someone as I already have SO MANY brushes and it will
take me forever to get around to using these. I seriously love
the gold
glitter
in the handles though. I love gold
. I love glitter. Sorted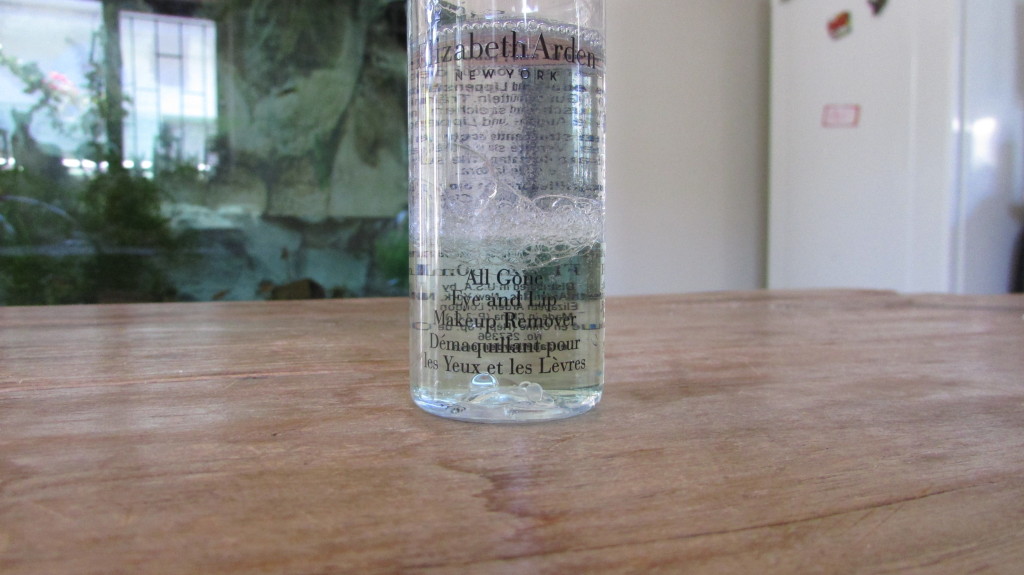 All Gone Eye & Lip Makeup remover: A very mild yet great
working make-up remover.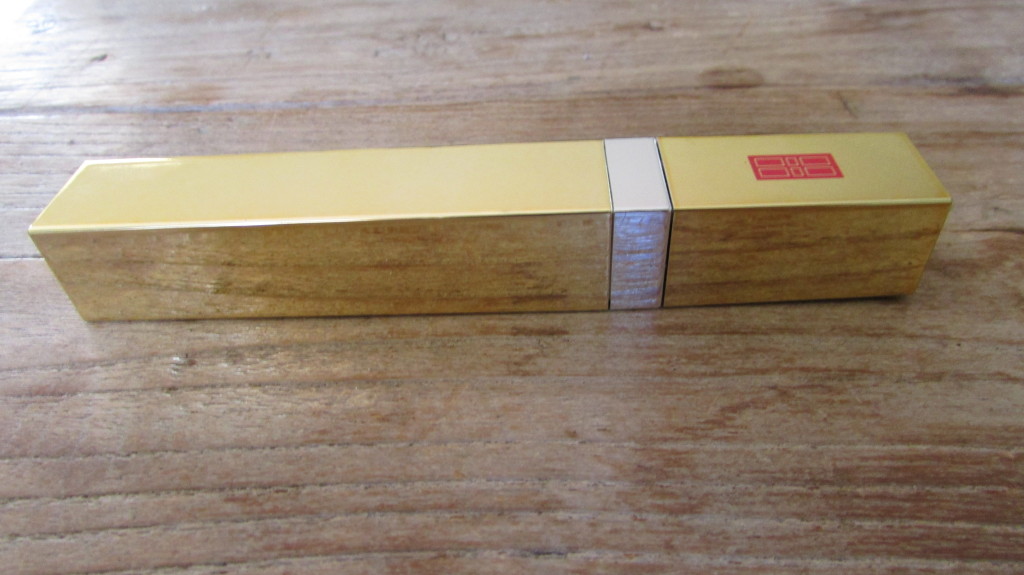 Mascara: I loved the thickness that this gave my lashes
, I didn't find it to be very lengthening but the volume was fantastic. It also had really good staying power. One of my favorites of the All Day Chic Colour Collection thus far.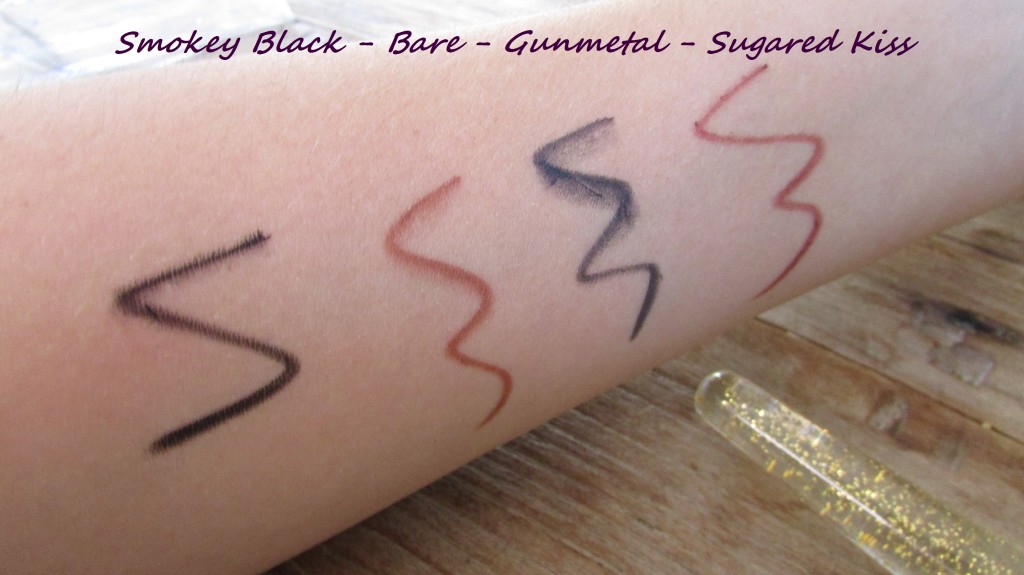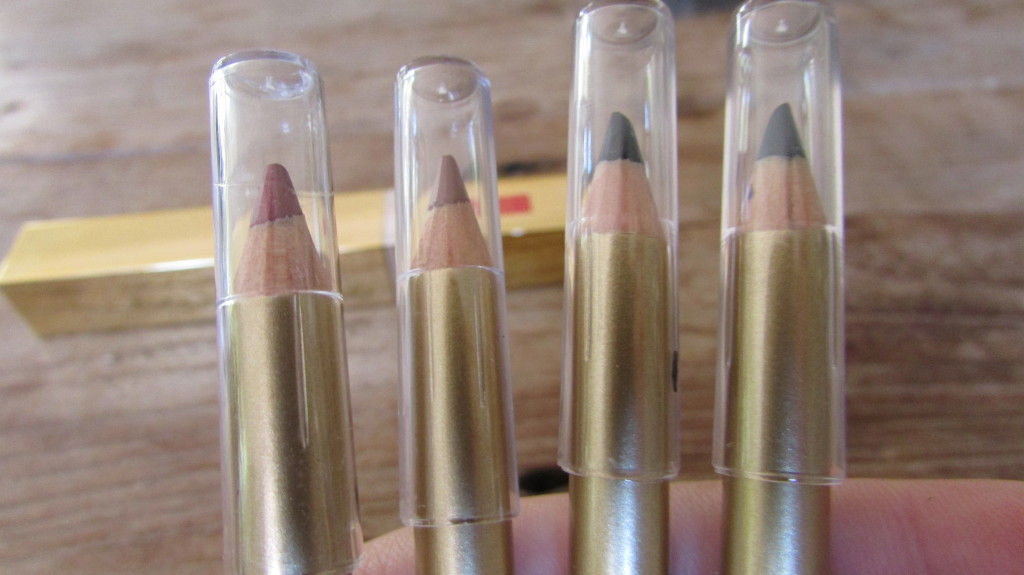 Eye Pencil/Crayons: These came in the colours Smokey Black and Gunmetal. You cannot go wrong with either colour as you ALWAYS need a staple black eyeliner, and a grey if you want a softer look. I liked the way these applied so smoothly but when
applied onto your waterline it wiped away very easily. I wouldn't use this on my waterline again at all.
Lip Pencil/Crayon: These were in the colours Bare and Sugared Kiss and I am obsessed with them both!! I have never been a huge lipstick or lipliner girl but for the last few months I have been trying to get into it and these two colours are divine, they can go with plenty of lipsticks, anything from peach to dark purple, and they work especially nicely
when paired with a nude lipstick and then some lipgloss on top.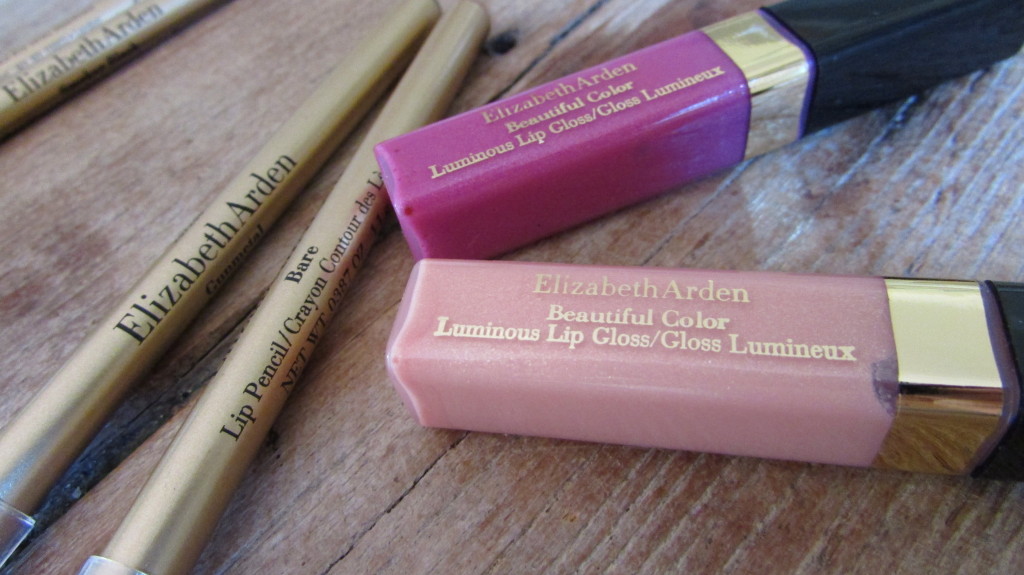 Luminous Lipglosses in Passion
Fruit and Precious Petal: As mentioned above, I am not a lip person and especially not a lipgloss person. These are super pretty and they smell like yummy biscuits. I wouldn't use Passion Fruit as it is just not my colour but Precious Petal looks lovely when used over a nudey pink lipstick and its just moist enough to keep your lips moisturised but not sticky.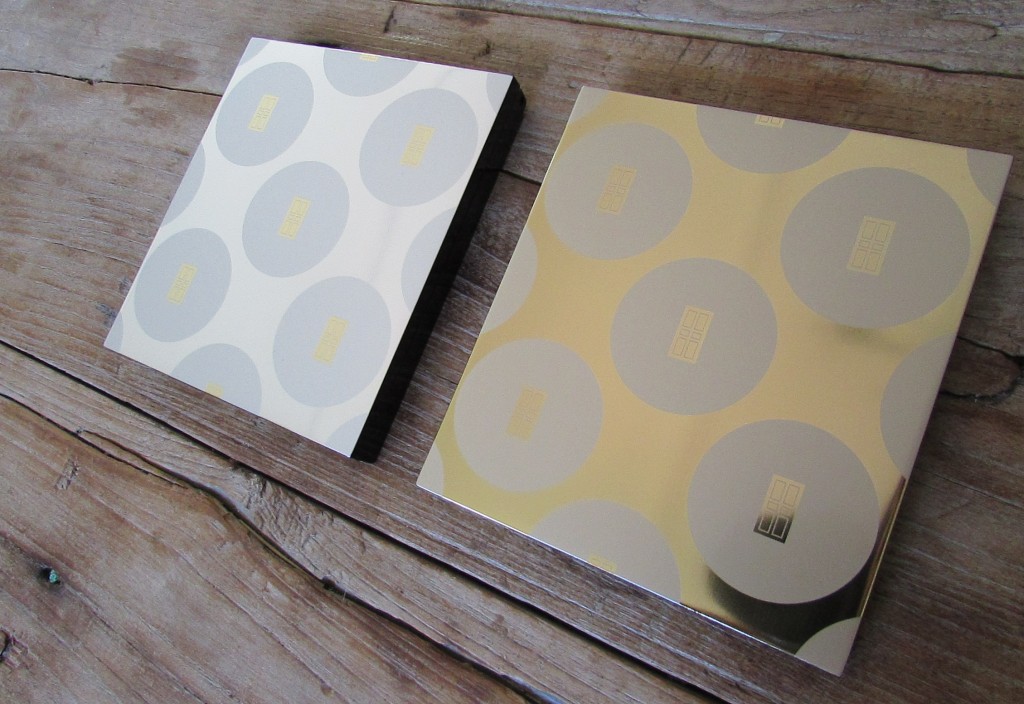 Work and Play
Eyeshadow Palettes –
Work
Pallete contains the eyeshadow colours Dusty Grey, Sunset, Rosey Pink, Glisten, Smokey Green and Romance, Heathered Plum – Highlighter.
Contour shade
in Tempting Taupe.
Blush shade
in Romantic Rose
Shimmer
highlighter in Bronze Shimmer
Play Palette contains the colours Satin Tan, Sterling, Mediterranean, Smolder, Innocence
, Golden Dusk, Sunrise and Heathered Plum – Contour
Blush shade
in Sunburst
Shimmer
highlighter in Nude Shimmer
Both palettes shadows were EXACTLY how we know Elizabeth Arden eyeshadows to be. Super long lasting and with a buttery texture. The palettes each contained a mixture of shimmer and matte shades – which is fine for me as those are my favourite! The blushers were of average quality and the shimmer highlighter from the Play palette is incredible for under your eyebrows or high on your cheekbone, I have actually used it almost every day since the first time I tried it. The shimmer highlighter from the Work palette is a bit muddy for my complexion but when blended correctly it acts as a pretty and soft bronzer.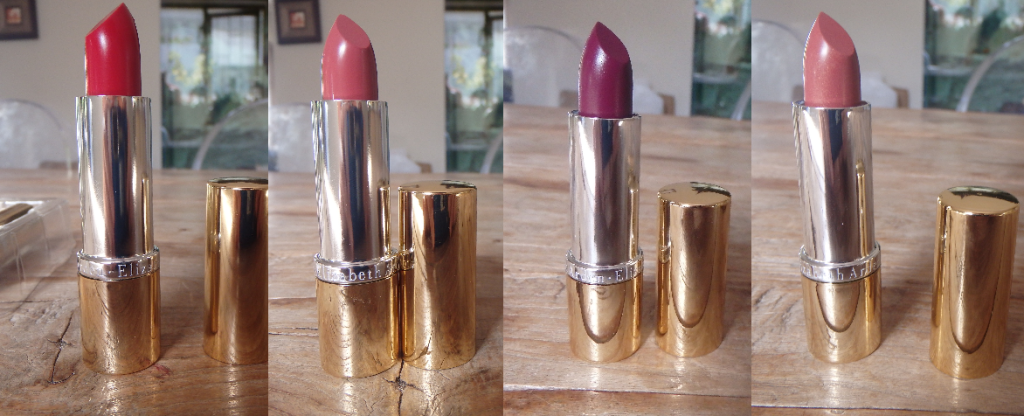 Now for the main attraction of the entire set! Although I think many people will love the eyeshadow palletes the most, I fell in love with the lipsticks. From their sleek packaging to the stand out colours, to their smooth finish, I loved
them all.
Desert Rose is a nudey pink with a touch
of gold
shimmer
.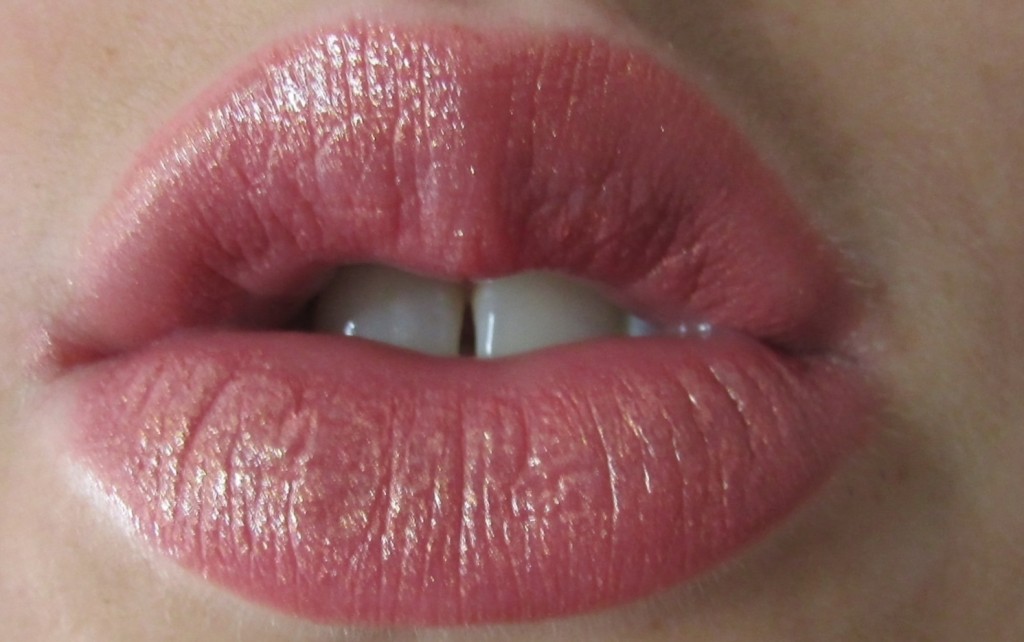 Breathless is an almost identical base colour
to Desert Rose, just a bit darker and minus the gold
shimmer
.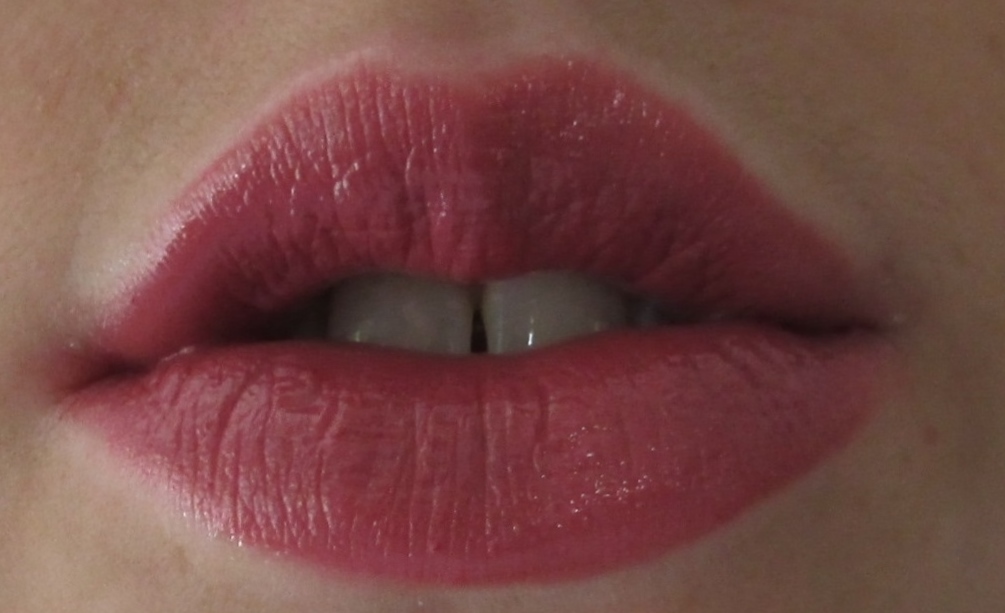 Red
Door Red is a classic Elizabeth Arden red which seems to fall somewhere between a matte and gloss finish.
Ultra Violet is the reason behind this entire purchase and I just looove it. Winter needs to hurry up now so that I can pair this with winged
eyeliner every single
day
.
This set
is available at most Edgars Stores and at Elizabeth Arden Online for R995!
Rayne XX