This was honestly the motherlode of beauty swaps! Out of all the swaps that I have been involved in this was the most thoughtful and generous of all! I partnered up with Leanne of Caked In Make-Up and we set ourselves a budget of seventy-five pounds. Yes, I know. A LOT! But I had been dying to swap with someone from the UK for months so I had a looong list of items. Mainly Leanne purchased me items which I asked for but she threw in quite a few surprises too 🙂 These pictures below are a quick overview so you can see the sheer amount of what she bought me.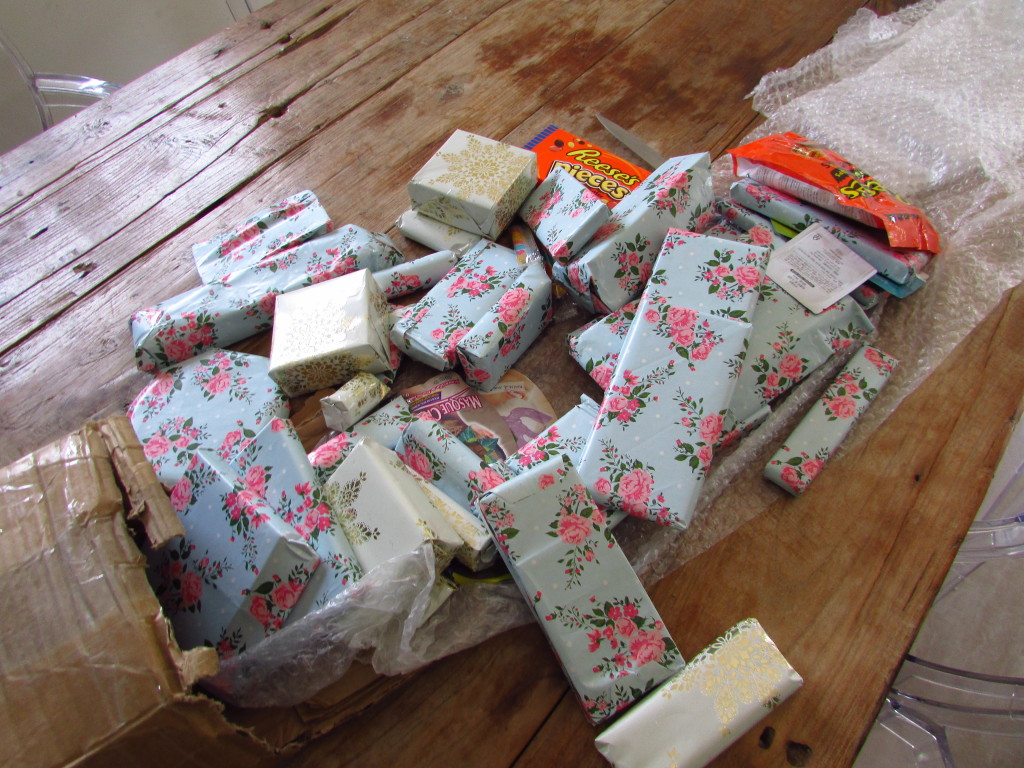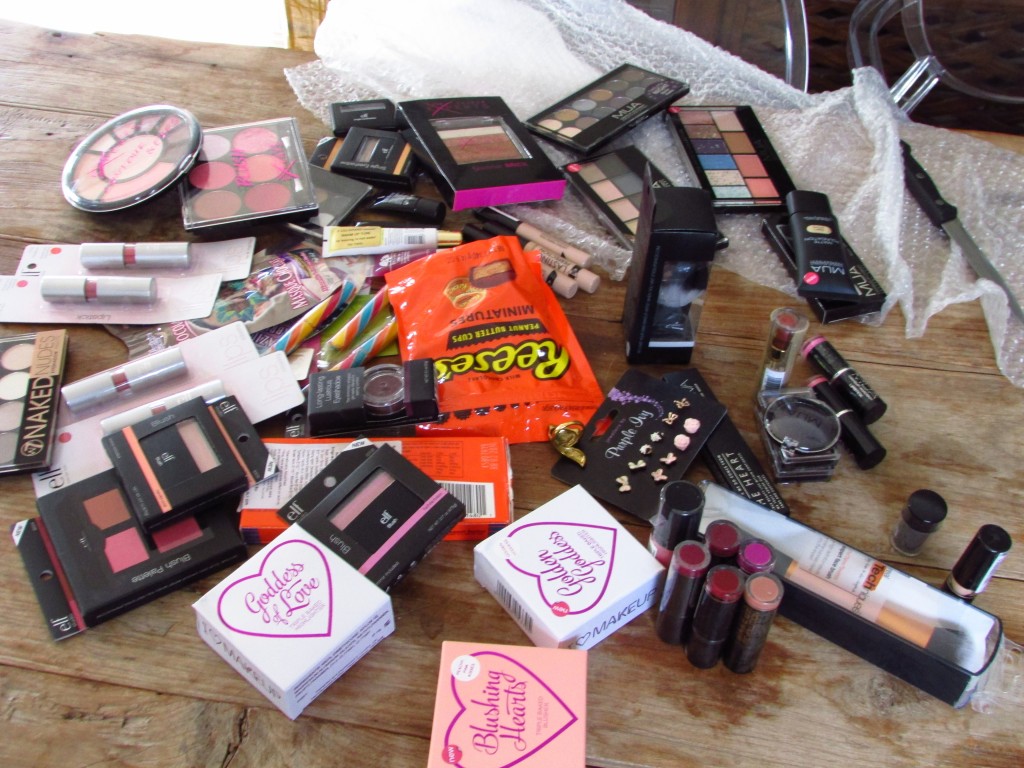 Now as you can imagine, I was overboard excited when I unwrapped everything and I just took some very quick photos in horrible lighting and with completely different backdrops as I wanted to unwrap and swatch everything so the photos are not great but I will be posting individual reviews on some of the items at a later stage. If there is anything in particular then comment below and I will be sure to upload a review and swatches! So here are the pictures of everything that she got me. DRUMROLL…. And PS; I know this is a very very big parcel and I really did not need any more make-up so I feel a bit cringey about posting about this but SO many people asked over Twitter to see a breakdown of the package.
---
E.L.F Lipsticks in 7702 Classy, 7703 Seductive, 7708 Charming & 7710 Flirtatious.
If I am correct, I think that I requested all four of these lipsticks. I have been wanting to try loads of elf products for ages (I am NOT one to turn my nose up at "cheap" items) and how lucky was it for me that elf was having their discontinuation sale the same time that our swap was planned for!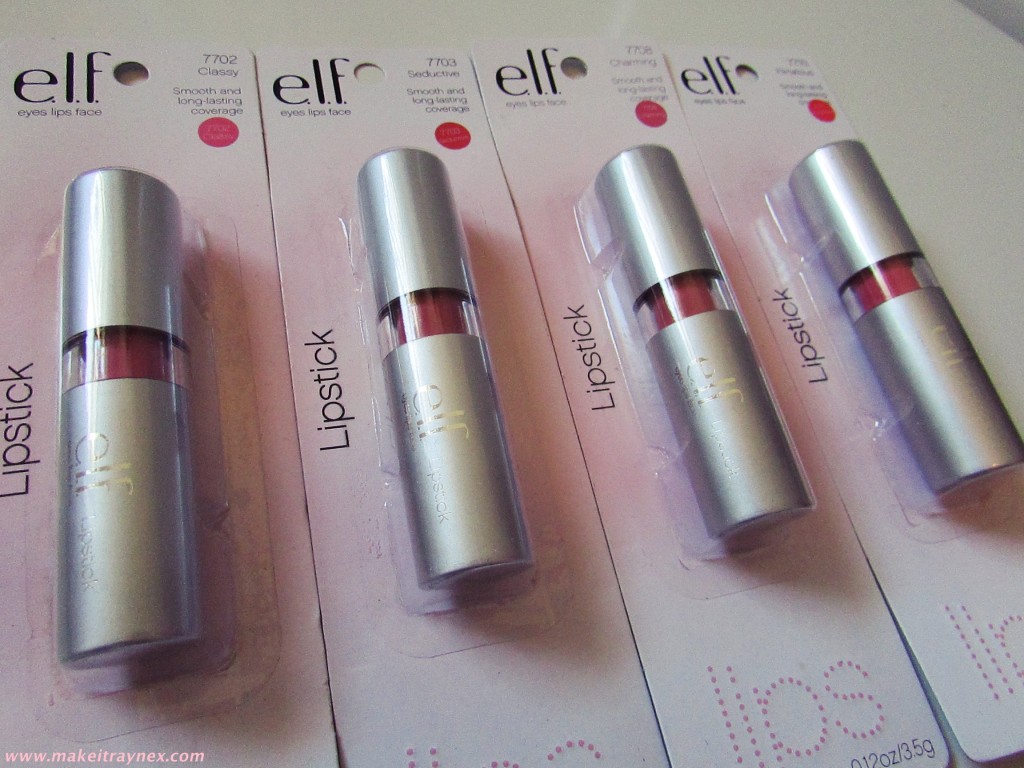 Make-Up Academy; Vixen Full On Volume Lashes, Blushes in Shade 02 and Shade 04, Pearl Eyeshadow in Shade 13 and Make-Up Revolution Pure Pigments in Starless.
Absolutely over the moon with the eyedust! And all of these other lovelies too of course, but especially excited to experiment with the eye dust.

The Colour Experts Shimmer Brick
This colour brick looks like a real dupe for the Bobbi Brown shimmer brick so I am SO keen in trying it out and seeing how it compares. I love items which are set out like this one and can be used as bronzer, highlighter, illuminator AND as eyeshadow.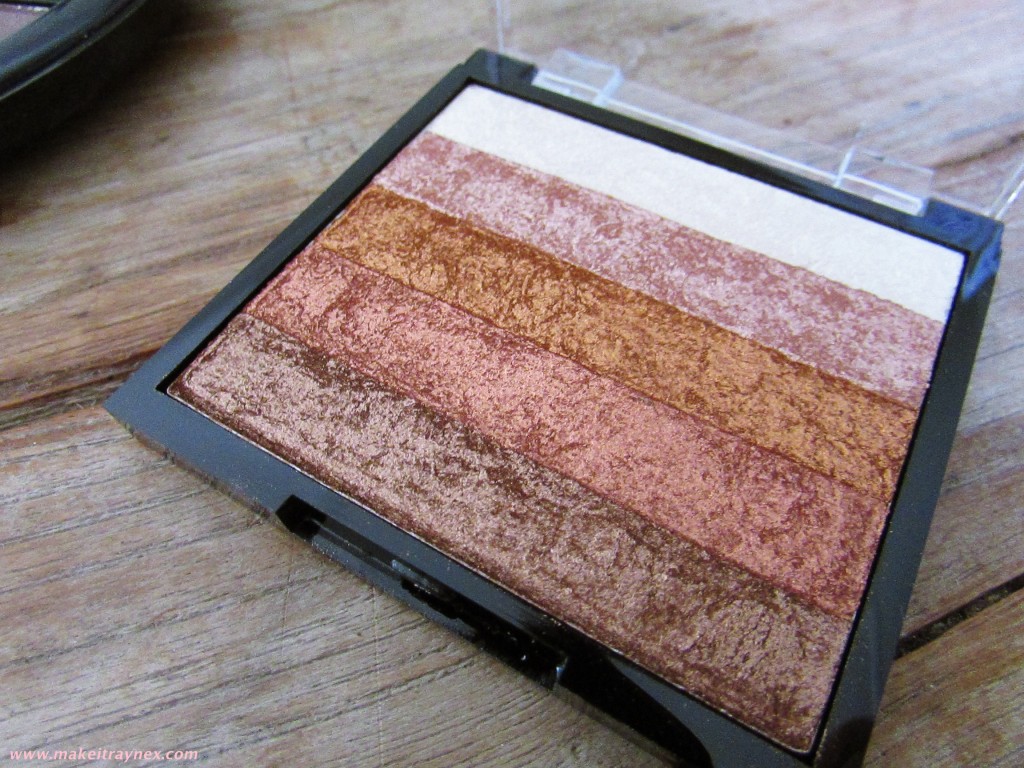 MUA Palettes in Ever After, The Artiste Collection, Twelfth Night and Glamour Nights
What exactly can I say about these? FOUR palettes! FORTY FOUR new eyeshadow colours! Well, technically two are blushers and two are bronzers/contouring colours. This is insane and that matte palette especially has my name all over it.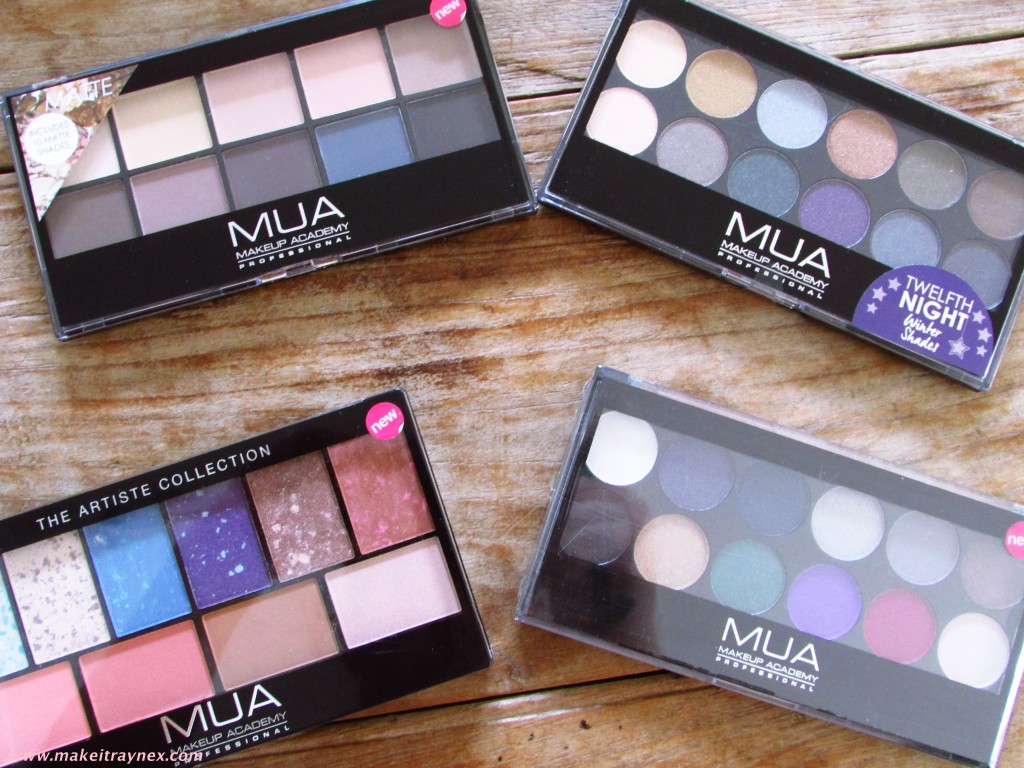 M.A.C samples of the Skin Base Visage and False Lashes Extreme Black, an adorable little fox ring and an ELF single eyeshadow in #D12
Aren't these MAC samples too cute? I loooove love love samples. What is better than trying a product properly before spending R300+ on it? Nothing, thats what. And this purple shadow is so insanely a ME colour!

ELF Blush Palette with four different blusher colours.
Can you deal with how gorgeous this palette is? And look at that lovely giant mirror. This is my first ever blush palette and I am sooo impressed with the colour payoff so far! I will definitely be doing a blog post on this soon. This is the kind of item that makes me angry about not getting cheap brands like elf in South Africa. It is only $6!! Thats, like, R60! For four blushes! REALLY?! Sigh.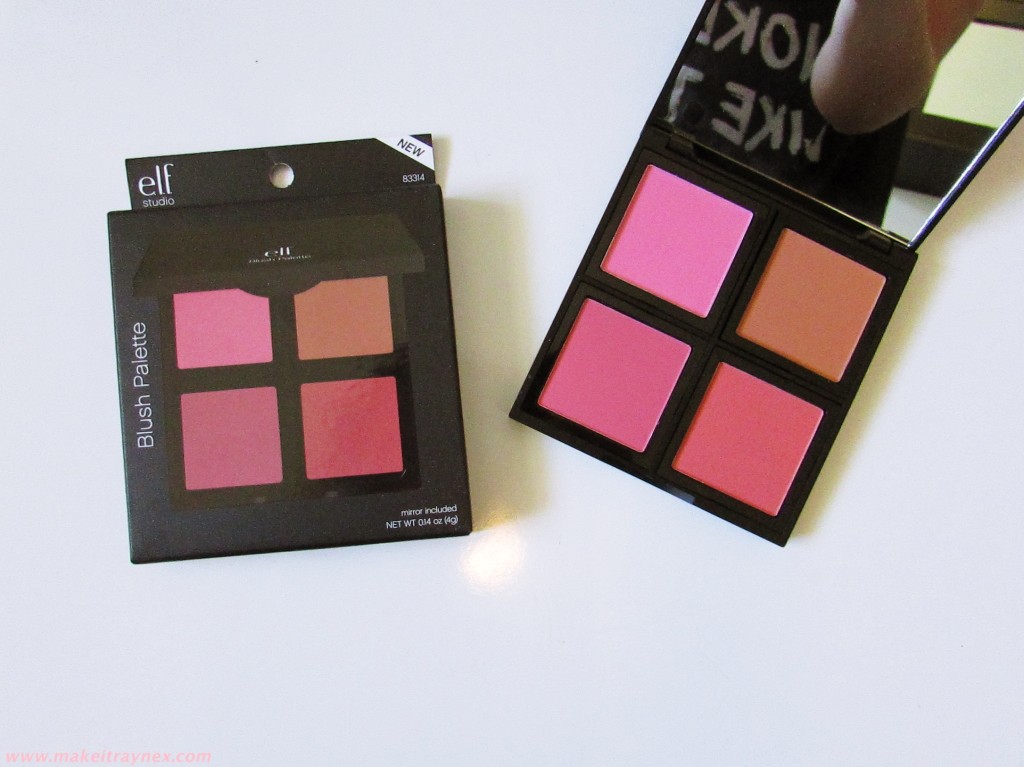 Origins Drink Up Hydrating Lip Balm, #LipGlam Lip Balm, W7 Naked Nudes eyeshadow palette and some gorgeous little earring sets from Purple Ivy
I was super happy to receive something from Origins because I see the brand being thrown around online for ages. Its a super hydrating lip gloss that works like a dream, and just in time for Winter! I was also excited to receive this W7 palette because its another brand that I have seen reviewed many times with great reviews. And you can never have too many nude palettes, right?

The Colour Experts Blush Palette & Contour and Eye Shadow Palette
I think this marbled blush palette is beautiful! I cannot capture the colours perfectly but the right hand pods are veined through with lighter colours so you can use them as highlighters and blush at the same time. Also this eyeshadow palette contains the perfect Winter shades.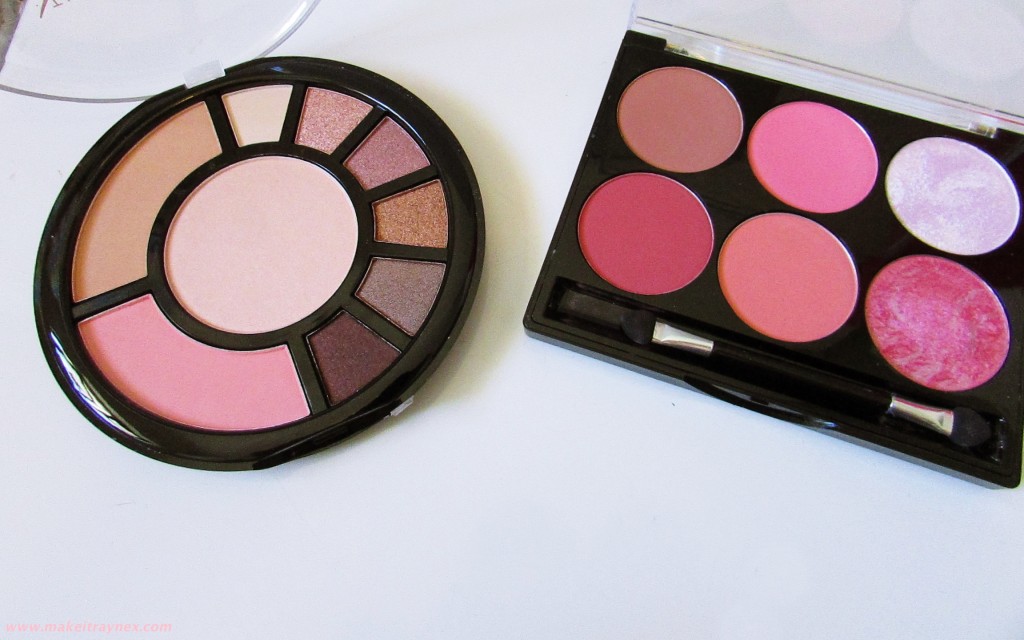 The Real Techniques Expert Face Brush & the E.L.F Kabuki Face Brush
I actually squealed when I opened up the package that contained this Real Techniques brush. Honestly, I filmed the whole unboxing and I squeaked out of excitement and couldn't stop talking for about five minutes straight! The prices that they charge us for RT brushes is actually criminal. I can not justify paying four times the price here! It is barbaric. Anyway, rant over. (Or is it).
I also love the look of this kabuki but for now its just sitting prettily in its packaging on my table. I have sooo many kabuki brushes even though I am not the greatest fan of them, and this one is just so pretty and perfect that I can't bring myself to open it just yet.

ELF single eyeshadows in Wild Wheat and D21 , blushers in Candid Coral and Fuchsia Fusion and a Long-lasting Lustrous Eyeshadow in Festivity.
The colour contrast is really bad in these photos and its a struggle to see the colours properly but all of these are SO perfect for me. You did good, Leanne. There is a buttery nude in Wild Wheat, a deep purple (better picture above), a deep purple lustrous eyeshadow in Festivity and a classic Studio Blush in Fuschia Fusion and another Studio Blush in Candid Coral. I am VERY excited to plan with the lustrous eyeshadow as I adore the one that I received in my last swap.

Make-Up Revolution lipsticks in Fusion, Nude, Rebel With A Cause, Crime & Reckless
MORE lipsticks. What can I say? I have heard great things about these cheapies so of course I had to ask for a few.

Montagne Jeunesse face masks in Chocolate Masque & Brazilian Mud Fabric Masque
These were thrown in as an extra and have you ever heard of anything better than a chocolate face mask? No, me neither. Also this fabric mask has really intrigued me as I have only ever used a sheet mask and this looks like quite a technical piece of skincare…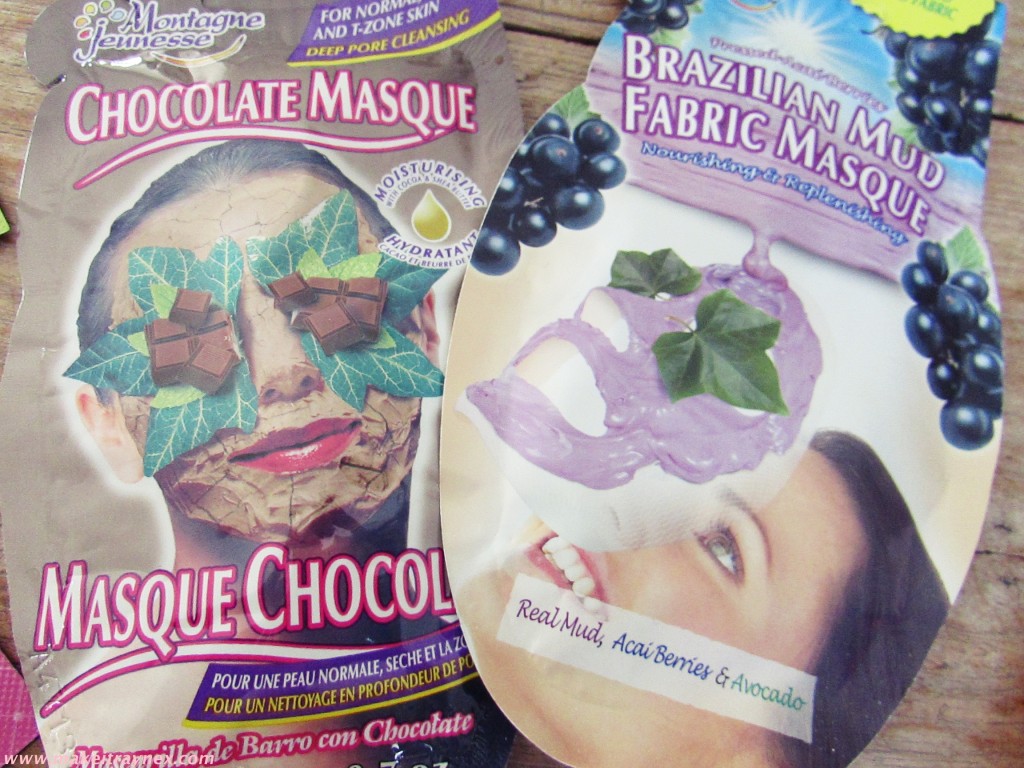 Make-Up Academy lipsticks in Shades 4 & 5 and an MUA concealer stick. MUA Matte Foundation in Soft Sand and Make-Up Revolution Vivid Blush Lacquer in O' Boy
Love these baby pink lipsticks for the Wintertime. Plain and subtle eyes with a pop of colour is just a good look in the colder months! Also veeeery interested in this 'Matte' foundation because of all the 'Matte' foundations I have tried, the majority turn out to be more dewy than matte. Although part of me hopes to not love it due to the fact that we do not have access to MUA! And this blush lacquer is the first of its kind that I have seen so very excited to try that one.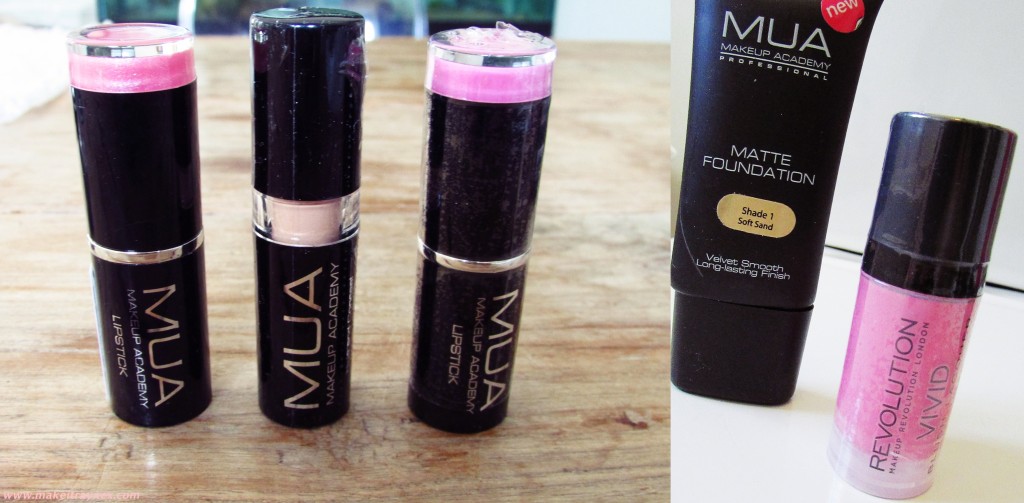 Make-Up Revolution Blushing Hearts in Peachy Pink Kisses and the Triple Baked Highlighters in Goddess of Love & Golden Goddess.
CAN YOU ACTUALLY? I don't even know what to type here. I have been coveting these for months upon months and I named three for Leanne in the hopes that she could get me one and she got me all three. EXCITEMENT OVERLOAD when I opened these.
Three Collection Long Lasting Lasting Perfection Concealers in 2 Cool Medium.
Anyone who watches Youtube will understand the hype around these. Quite possibly the most talked about drugstore concealer of all time. I had one brought down with a family member this past January and I made it last until May. Thankfully Leanne sent me three in my colour (yes, I did request these too) so I am pretty much set for the next fifteen months! And honestly, I urge anyone who knows anyone going to the UK to pick one (or a few) of these up. You will not regret it.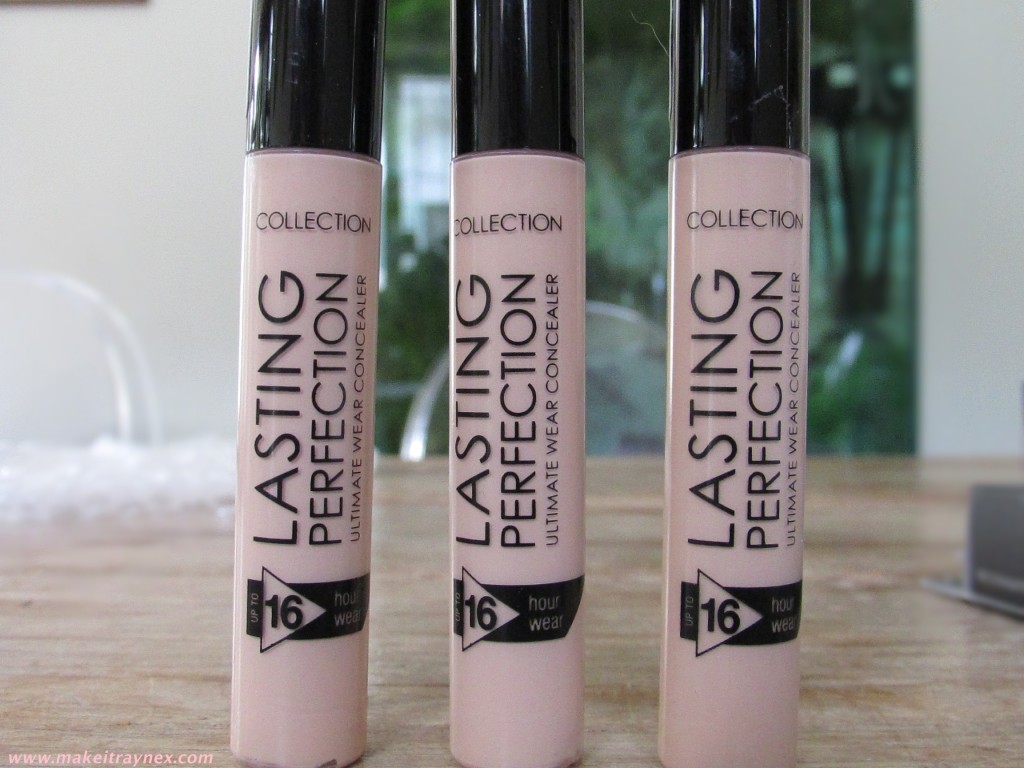 And then last but not least, some delicious Reeses Peanut Butter Cups, Reeses Pieces and rockcandy!
I did request all of these snacks. And then she threw in a few gorgeous little samples.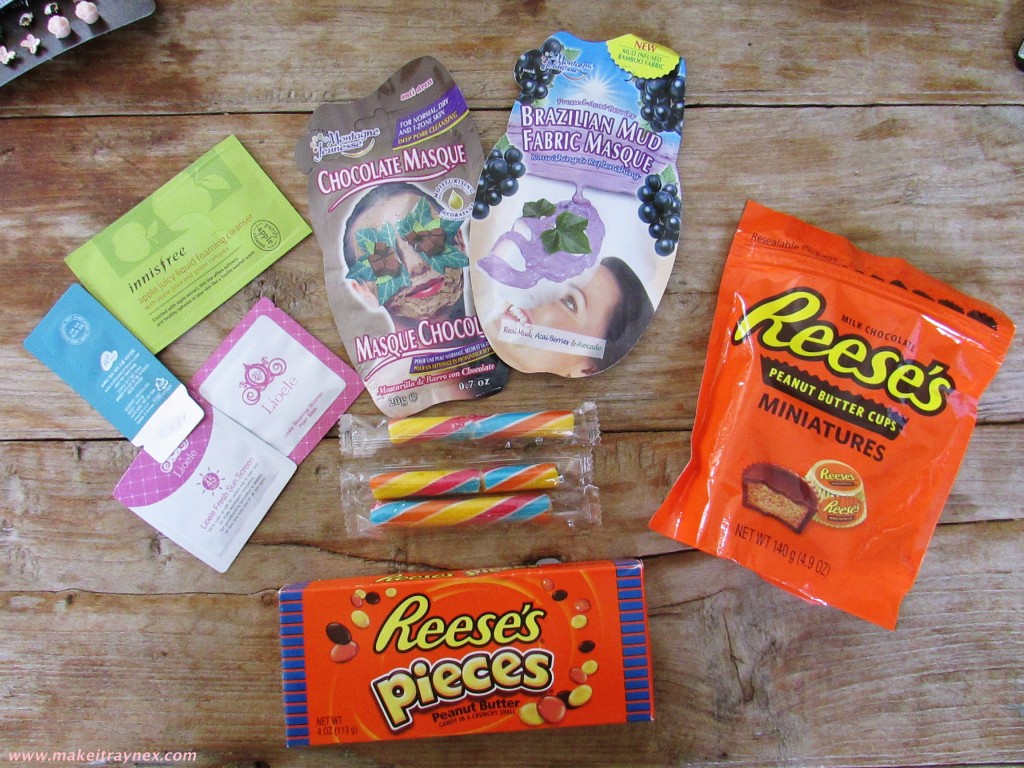 Shewee. That was a long one! I was absolutely, positively blown away be Leanne's generosity and she did wonders with our budget! E.L.F was having a massive discontinuation sale and Make Up-Academy and Make-Up Revolution were both having their seasonal sales so I got very very lucky and ended up being sent much more than you usually would get out of our budget.
The items that I was most excited by were the Collection concealers as I was on the last few swipes of my current one, so being sent three was amazing as I use it every single day and these three will keep me set for the next few months 🙂 I also let out an embarrassing squeal when I opened up the Real Techniques Expert Face Brush and I am SO excited to use it as soon as possible. And last but not least the Blushing Hearts made my entire year! I have been coveting these for months and being sent three different ones just made my heart beat a little bit faster. I am SO SO happy with every single item that Leanne sent me and I am super grateful for partnering with such a lovely lady 🙂
There were obviously WAY too many items to swatch in one post so I will be splitting everything up into individual posts, but please let me know if there are any products that you are particularly interested in seeing a review on!
I will however (and I have mentioned this before) be hosting an 'International Beauty' competition within the next few weeks with items from all the countries that I have posted about (Australia, Canada, Scotland and England) as I officially have WAY too much make-up and I'd love to spread the love around.
Rayne XX
---
To see my post on what I sent Leanne, click here.
To see Leanne's post on what I sent her, click here.
And then one last picture of the Blushing Hearts BECAUSE THEY ARE PERFECT.