Welcome to my sixth ever International Beauty Swap! I get such awesome feedback and really high view counts whenever I post one of these so I am glad that you enjoy reading them 🙂 I have (obviously) loved partaking in them but I am making a concerted effort to plan fewer of them, with bigger gaps in between. My bank account just cannot handle it! That is another thing too; I always get tons of comments of people asking how much they cost and I cringe every time.. Its bad.
So this swap was planned when I was on the lookout for someone in the UK (funny side note, I never knew Scotland was part of the UK! I just assumed she lived in England until she gave me her address and I was like whaaat. Okay so lets call that an embarrassing sidenote instead of a funny one). So Leanne (from Caked in Make-Up) and I partnered up. She is a swap vetren who had never swapped with a Saffa before and I was looking for anyone who could get me a few certain brands, so it was a great match. Leanne is 27, lives in a place called Dollar in Scotland, she has two goooorgeous little girls and a husband and she is fabulous. Like my last few swaps,  I went into this one with a list of which items I wanted but Leanne was a lot more chilled and just asked for brands which she cannot get and she wanted a few Inglot eyeshadows and the LA Girl HD Pro Conceal Concealers. We also decided to include snacks, sweets, candies, lollies – whatever you want to call them! We had a large budget of GBP 75. And already I was worried about how much the postage would cost!
We kept each other totally clued up along the way, sending regular pictures of when we had bought things and we also kept up a stream of conversation to check with products, colours, patterns, flavours etc we liked and which we did not.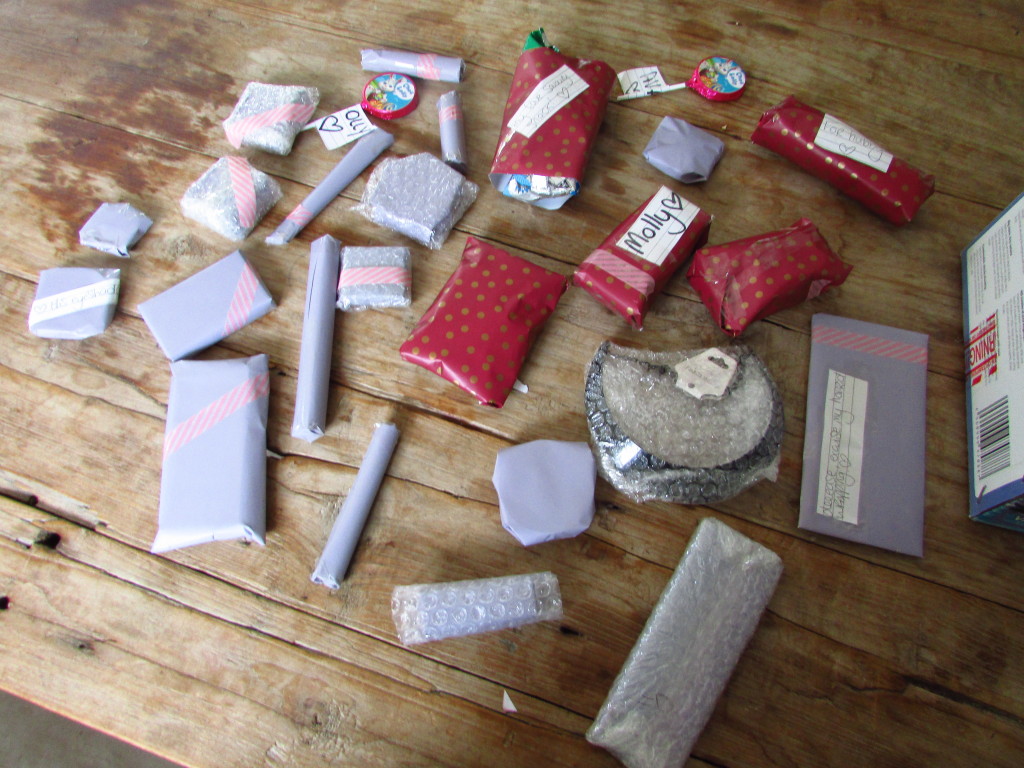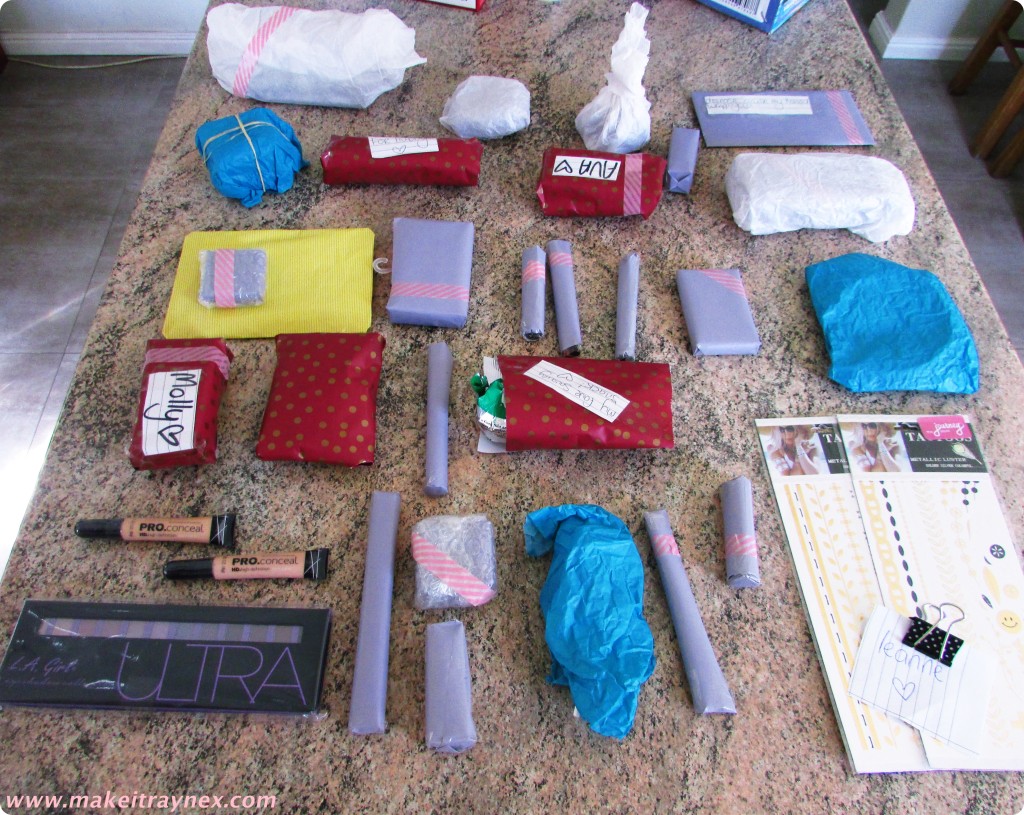 My wrapping skills are absolutely atrocious and I did not even stick to one pattern of wrapping paper! (Sorry Leanne!). Here is the list of what I bought her:
– 1 x Smudge Liquid Liner
– 1 x Colour Couture Eyeshadow Palette
– 4 x Inglot eyeshadows in 72, 430 and I cant remember the other two.
– 3 x Catrice eyeshadows in 020, 030 and 050
– 1 x Catrice Lipstick
– 1 x set of Beautique lashes
– 1 x Ralo Cream Shadow
– 1 x Smashbox glitter eyeliner
– 1 x Smudge Eyeshadow stick
– 2 x L' Action Facemasks
– 4 x mini samples
– 2 x LA Girl lipliners in Cabaret and Eggplant
– 3 x Ralo eyeshadows
– 1 x Zambuk
– 3 x postcards and x2 magnets (she asked for a SA magnet)
– 2x 2nd Love Lipsticks
– 1 x Aloe Vera Lip Treatment
– 1 x 2nd Love Eyeshadow
– 1 x 2nd Love Lipgloss
– 1 x Revlon Balm Stain
– 1 x L' Action Puffy Eye Reducer
– 3 x Accessorize Eyeshadow trios
– 1 x HD Eyeshadow Neutral Palette
– 1 x LA Girl Beauty Brick in Ultra
– 1 x BYS Lashes set
– 2 x Black Onyx Lipliners
– 2 x Skin Strategy Face Masks
– 2 x La Girl Concealer
Then I added in corn nibs, Tempo chocolate, Astros, some chocolate coins, Maynards jelly sweets, Lunch Bars and a few other things.
Overall the package weighed 2.5KG and it cost me R540 to send. YOWZERS! But I think Leanne and co. will love everything so it will all be worth it 🙂
And the same as my last swap I asked Leanne for certain products from a few brands. For example the Make-Up Revolution Blushing Hearts (asked for quite a few of those eeek), ELF items, the Collection Concealer as I only have one and it is ALMOST finished, Reeses chocolate, Make Up Academy lipsticks, and loads more!
Take a look at the sneaky peek pictures she sent me. I am SO going to be spoilt!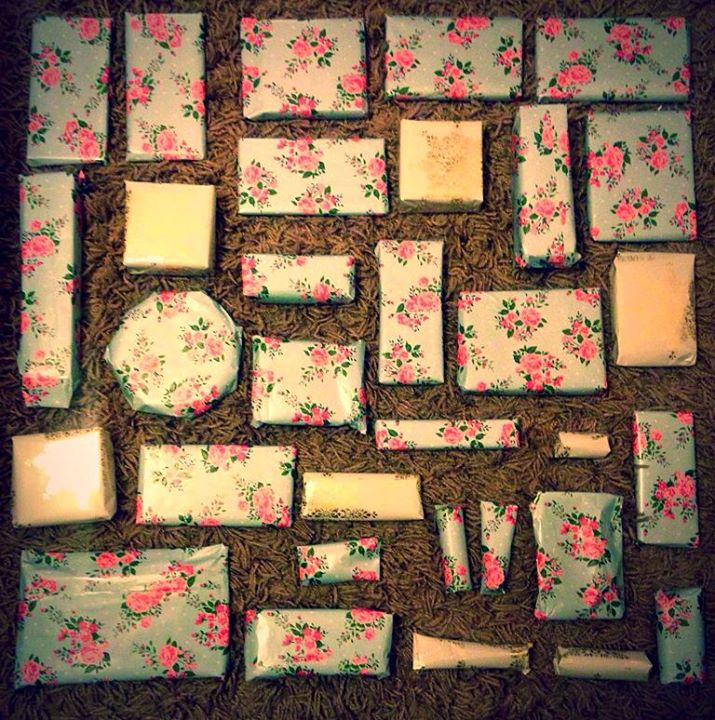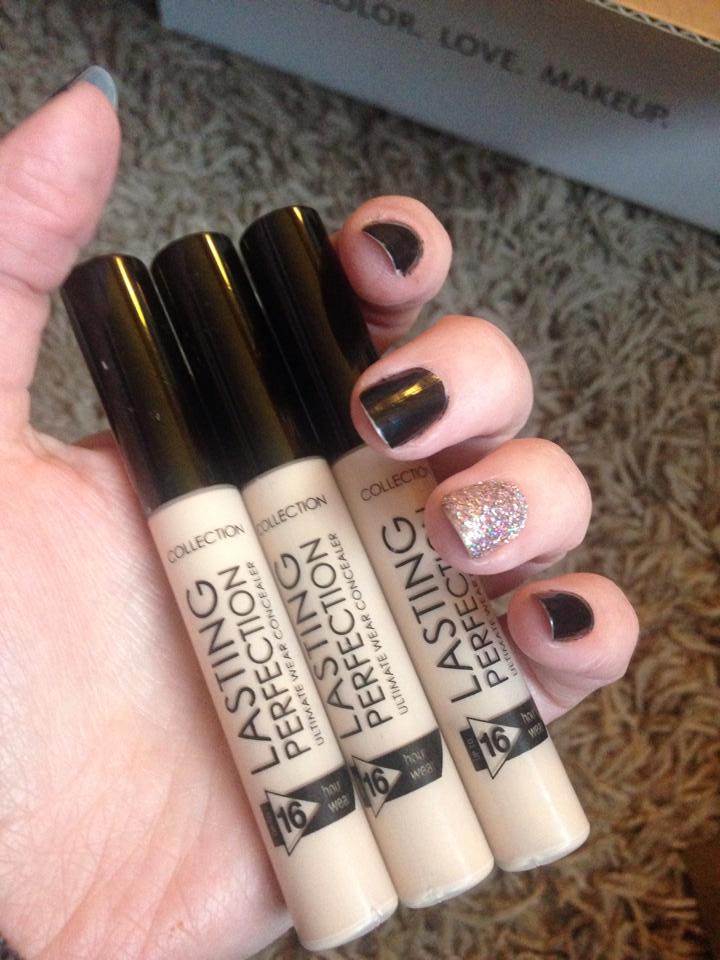 Hope you enjoyed! I will be sure to post what I received from Leanne as soon as I (FINALLY) receive it!
*** To read Leanne's post on what she received from me click here!
Rayne XX