Celebrate World Chocolate Day 2021 with GD Chocolate!
It's World Chocolate Day on the 7th of July and this year we are celebrating this sweet occasion with GD Chocolate! World Chocolate Day is all about championing one of the greatest culinary innovations in human history. While educating ardent chocolate fans on the processes, resources and methods that go into each slab. GD Chocolate is a unique chocolate manufacturer. Not only do they focus on delicious taste but also seek to highlight the inherent health benefits of authentic cocoa and elevate them with natural, superfood ingredients. Let's take a look closer at all the different treats you can indulge in this Chocolate Day.
GD Chocolate Slabs
GD Chocolate prides itself in sourcing sustainable, natural and authentic cocoa to champion in all their chocolates. Besides being mouth-watering delicious, chocolate's initial popularity is accredited to cocoa's immense health benefits, especially when kept as natural and unprocessed as possible. With each slab of GD Chocolate you are getting a dose of essential mineral magnesium, theobromine (which strengthens and improves heart function), anti-oxidants and tryptophan which boosts serotonin levels and gives us that good-feel chocolate is so famously associated with. Furthermore, all chocolates in GD's range are dairy-free with no preservatives, no soy lecithin, no artificial colourants or flavourants. The slabs come in seven different flavours: Lemon & Black Pepper, Himalayan salt, Vanilla, Coffee, Orange, Mint and Rooibos & Matcha.
Left to right: Mint, Vanilla, Himalayan Salt Orange, Coffee, Rooibos Matcha, Lemon & Black Pepper (all R54.95)

One of GD Chocolate's most unique and innovative products, the GD Loaded Logs pack a superfood punch. Brimming with ingredients that contain powerful health-benefits. Tthese chocolates are delicious and deliver the nutrients your body is looking for. The four different flavours target different specific health areas:
Collagen:
If you're looking for the spring of eternal youth, The Collagen Log is your ticket. Loaded with collagen and sporting a lusciously chewy toffee-like taste, this is your go-to if looking to add some extra TLC to your skin, hair and nails.
Vitamin C:
Vitamin C plays an important role in strengthening your immune system and should be consumed daily. With a sweet citrus tang. GD Chocolate's Vitamin C Loaded Log has made it an easy pill to swallow.
Maca Moringa:
In need of an energy pick-up? The Maca Moringa Loaded Log is made specifically to give you an extra boost. Unlike other chocolate bars it is sustained and won't suddenly leave you hanging.
Turmeric:
Finally, help your body out with a punch of turmeric's anti-inflammatory benefits with the ginger-warm, coconutty Turmeric Loaded Log.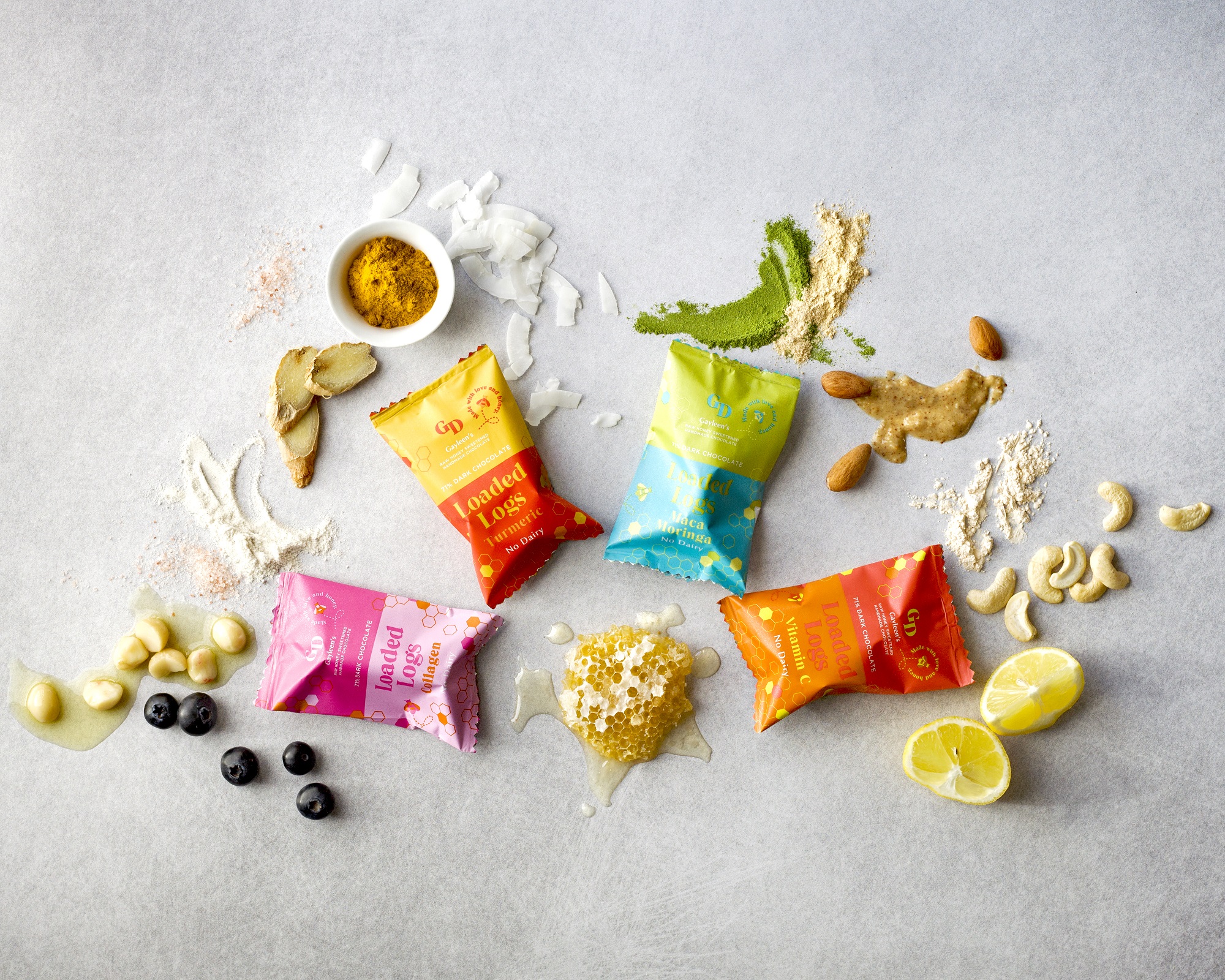 Left to right: Collagen Log, Turmeric Log, Maca Moringa Log, Vitamin Log (all R25.95)
Buttercups:
With crisp, thin, quality chocolate enveloping a soft, mouth-watering centre coming in five delectable flavours, you really can't beat GD's sensational buttercups. These decedent, bite-sized gourmet chocolates are the perfect treats to indulge in when wanting something just a little more exciting than your run-of-the-mill chocolate experience. With flavours like Almond Butter, Mint, Mocha-Coffee, Turkish Rose & Vanilla, there is something for everyone.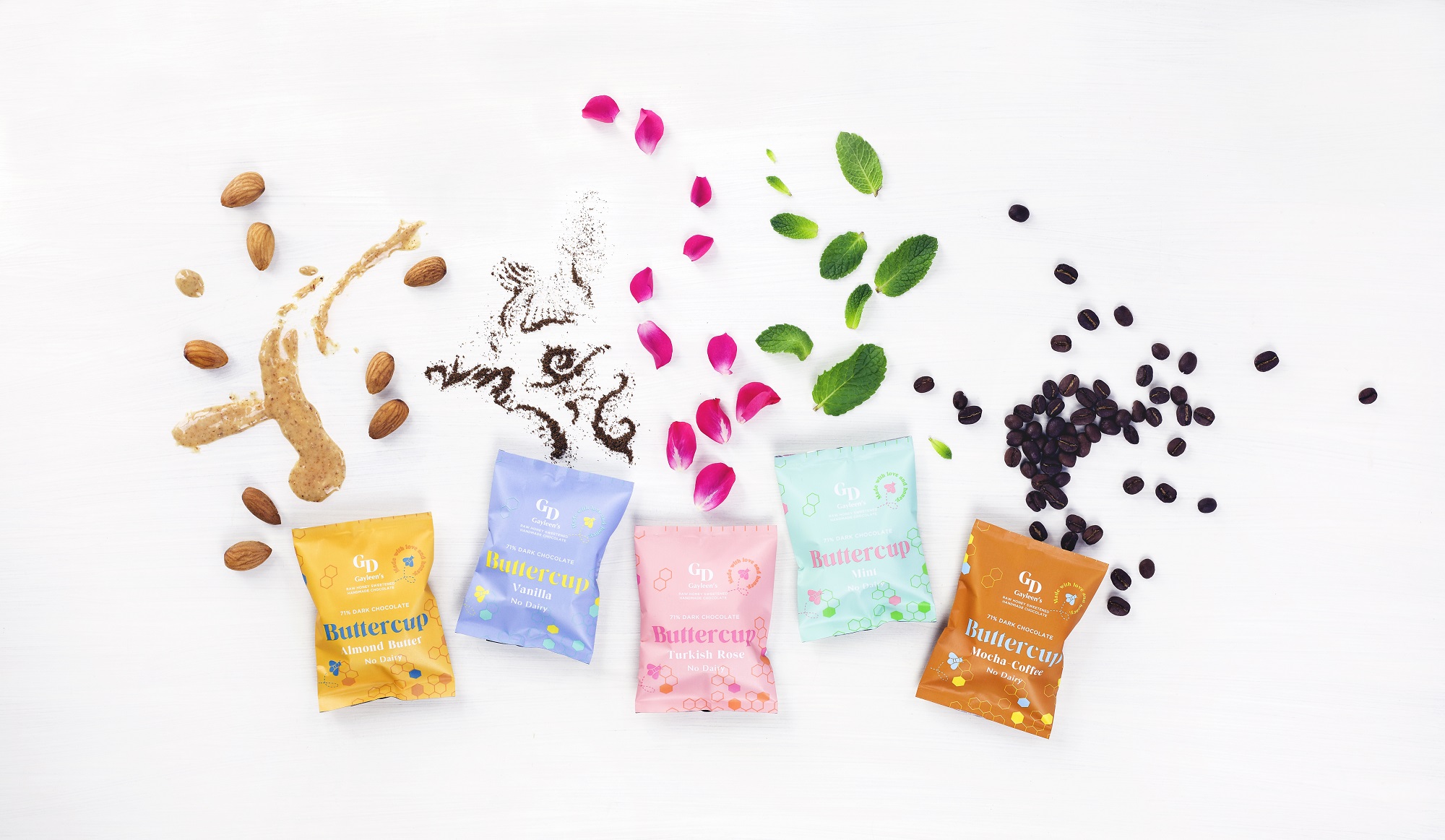 Left to right: Almond Butter, Vanilla, Turkish Rose, Mint, Matcha Coffee (all R20)
Vegan Slabs:
GD now offers three delectable vegan options in the form of slabs (R65 ea). GD's Vegan & Sugar Free Slabs are full bodied, dense, rich-tasting chocolate. They are keto and vegan diet friendly as well as free from cane sugar. They have been sweetened with Erythritol and are made with love. Also containing no soya lecithin, preservatives, artificial colourants or flavourants.
No matter if you're feeling adventurous with one of GD's innovative loaded logs, looking to treat yourself with a delectable buttercup or are just craving a classic chocolate slab, get ready to boost your body and satisfy your every chocolate dream this World Chocolate Day. With GD Chocolates in your corner, forget New Years and consider July 7th the new best day on the block.
Website: https://gdchocolate.com
Instagram and Facebook: @gdchocolate