Winter with Pretty by Flormar
Winter is coming in cold, dark and gusty, and as each day passes it is becoming less and less appealing to leave bed any earlier than you have to. However, the good news is that winter looks often require less colour and complexity than their summer counterpart, with more emphasis rather being put on flawless finishes and sleek, clean lines. Pretty by Flormar understands this and with its Cover Up Foundation and show-stopping mascaras, your winter routine has just become so much easier and more glamorous.
Winter can be harsh on your complexion, with cold temperatures causing discolouring, chilly winds drying and chapping your face and the change of seasons causing general confusion for your skin. Yet despite these challenges, a radiant complexion is still easily achievable! Pretty's Cover Up Foundation (R164,95) (promotes dewy, smooth skin finishes that are gentle and sensitive to all skin types. With a creamy texture, focus on intense coverage and an SPF15 to ward off any stray rays (this is cloud-burn season after all), this product covers any blemishes and is the perfect first layer to enhance any winter look you desire.
With cool tones being showcased in the winter catalogue, you don't want to go too big when dressing up your eyes. Therefore, this season, look to accentuate your eyes with a bold and striking mascara for elegant but eye-catching detail. Pretty by Flormar has three different mascara types to suit everyone's personal preferences. If you like definition and want to showcase each individual lash then the High Definiton Mascara is made for you, yet if you are searching for more volume or shape, then either the Curling Mascara or Volumising Mascara is what you're looking for.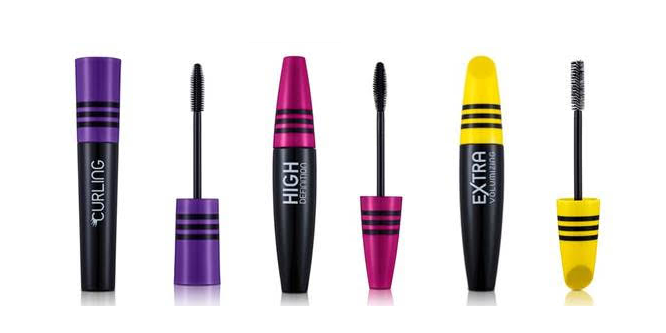 Left to right: Curling Mascara (R76,95), High Definition Mascara  (R94,95), Extra Volumising Mascara (94,95)
You don't need a lot to shine this winter and with these two fundamental products in your make-up bag, you can catch those extra winks of sleep comfortably knowing that Pretty has you covered.
About Pretty by Flormar:
Pretty by Flormar has been developed for the makeup fans who want to shop on a budget without sacrificing quality. Having geometric, simple yet strong lines, Pretty promises to meet all basic expectations of the women who explore the creative world of makeup.
Website: http://www.prettybyflormar.com
Instagram: @prettybyflormarsa
Facebook:  Pretty by Flormar SA
Stocked at Foschini.