Creightons | the Perfect Solution to Your Winter Hair Woes
Along with the upsides of winter (snuggling under cosy layers, sitting in front of a fire place with a good book and hot chocolate in hand) come a few downsides, especially when it comes to your hair. We're talking dryness, frizz, and lackluster tresses.
Switching up your shampoo and conditioner is a good idea to give your mane some TLC.
Professionally formulated and expertly developed, Creightons award-winning Argan Smooth Moisture Rich and Pro Keratin Strength and Repair collections offer the perfect solution to your winter hair woes. Whether you're looking for intense nourishment and moisture to transform dry and damaged hair into silky soft locks, Creightons will ensure salon-worthy tresses every day, without breaking the bank!
An age old beauty secret, Moroccan Argan oil (extracted from the kernels of Argan Trees) is a luxury inclusion in hair care products. Thanks to its moisturising and conditioning properties, this beauty elixir (rich in vitamins, minerals, antioxidants and essential fatty acids) has become a popular addition to our hair regimes.
Harnessing the natural power of Moroccan Argan Oil, Creightons Argan Smooth range helps to deeply nourish, hydrate and protect even the driest of hair against frizzy and damaged strands, whilst increasing the hair's elasticity and adding shine to dull lifeless hair.
Argan Smooth Moisture Rich Shampoo and Conditioner
Perfect for hair types in need of hydration, shine and light frizz control, Creightons Argan Rich Shampoo and Conditioner (RSP R99. 95 each). Infused with Moroccan Argan oil and silk proteins, replenishes moisture. Leaves hair silky soft and more manageable from root to tip.
Hands up if you're tired of dealing with lackluster, frizzy locks? If that's you, investing in a keratin shampoo and conditioner is a must to help tame your mane and make it more manageable. Keratin is a protein that is found in your hair and when your hair suffers from dryness or damage, it loses this protein, making it weaker and more prone to damage.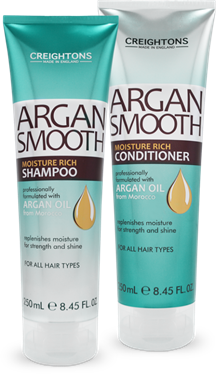 Pro Keratin Strength and Repair Shampoo and Conditioner
Suitable for all hair types, but particularly beneficial for those with dry, damaged, natural or colour treated hair, Creightons Keratin Pro Strength and Repair Shampoo and Conditioner (RSP R99. 95 each) gently cleanses and conditions the hair from root to tip, reducing frizz and adding maximum shine. It also helps boosts keratin levels, providing an extra layer of protection for silky smooth and more manageable locks.
Tip: Washing your hair every day will remove important natural oils, known as sebum, and will leave your hair feeling dry and brittle. Additional signs of over-washing include the colour of your hair beginning to fade, frizziness and a flaky scalp.
Made with the highest quality formulations, Creightons products are 100% cruelty-free and where possible their products are vegan friendly
Available from Dis-Chem Pharmacies.
Facebook: Creightons-South-Africa
Instagram: @sunpac_sa
Hashtags: #creightons #creightonshaircare #haircare #hairproducts #hairgoals #keratin #arganoil #dryhair #frizzyhair #shinyhair