Scalp care is fast becoming the new hair care and for good reason too. After all, it's no secret that great hair starts with scalp care. Just like it's important to exfoliate your face as part of your skincare routine, regular scalp exfoliation creates the environment for healthy looking skin and hair.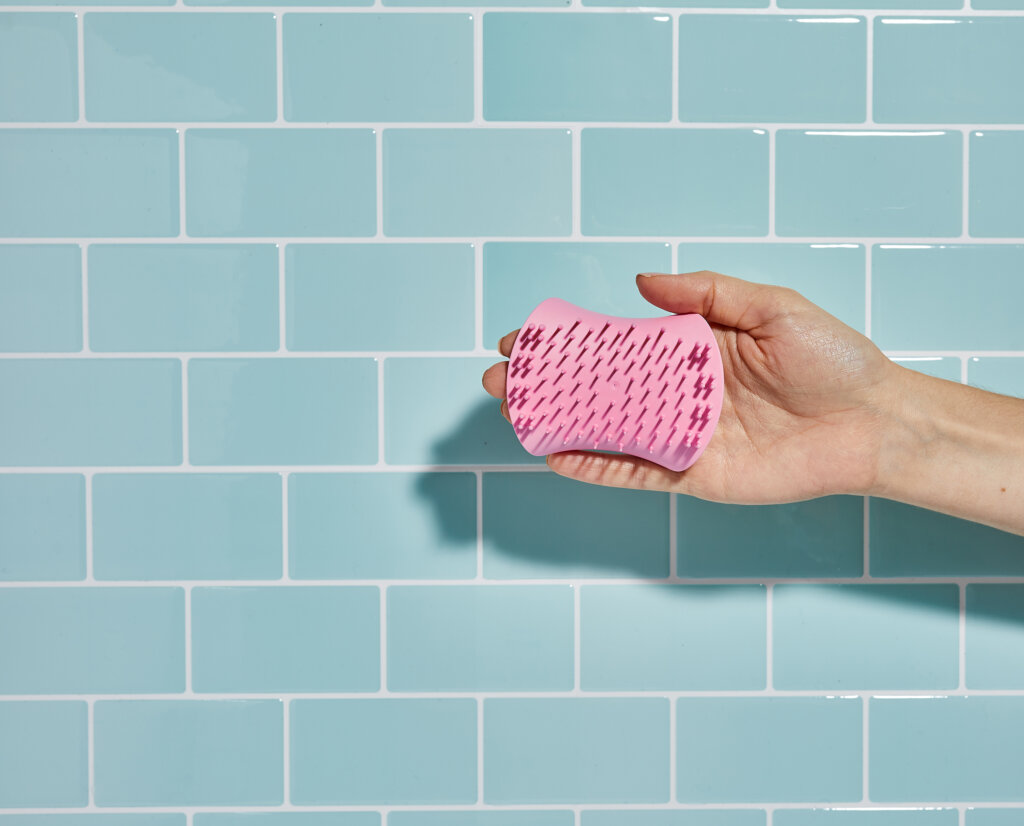 One way of doing this is using a scalp brush. Introducing a scalp brush into your hair care routine has a whole bunch of benefits for your health, your head and, of course, your hair! Commonly referred to as a scalp scrubber, a scalp stimulating brush or a scalp massaging brush, Tangle Teezer South Africa have just launched their first-ever wellness tool, the Scalp Exfoliator and Massager because –  you've guessed it – it both exfoliates and massages your scalp!
The worlds of beauty and wellness have never been more interlinked, and the latest release from Tangle Teezer combines both in one incredible tool. Recommended by The International Trichology Congress, Tangle Teezer's Scalp Exfoliator and Massager is a multi-tasking marvel with dual teeth that helps provide an invigorating scalp exfoliation, that will leave your hair looking and feeling refreshed, all while giving you massage-based TLC too.
The Power's In the Teeth
Suitable for all hair types and smartly designed, the innovative teeth technology combines two teeth lengths in a multi-purpose tool that will blow your mind, all day long. The flexible long teeth exfoliate pollution, dead skin cells and build-up from hair products. Whilst the shorter teeth have been designed to hit the spot when it comes to pressure points, so you can power down with a relaxing scalp-massage. The specially developed, handle-free design puts the power of the teeth directly in your hands. So you can control the pressure of your massage and exfoliate your scalp with confidence. Created to work with all hand sizes. It also features a textured material that will make sure it slips into your self-care routine.
Here's just a few of the benefits to using the brush:
Helps with dandruff: Scalp brushes help to remove the build-up of old skin cells and product that can lead to an itchy, flaky scalp, the telltale signs of dandruff.
Helps to massage the scalp: We're willing to admit that our favourite part of going to the hairdresser is when they drop that surprise scalp massage during the hair wash. It is Heaven! Massage is not only super relaxing but it also has a host of health benefits, including stimulating those pressure points that give you brain tingles.
Stimulates the scalp and hair follicles: That tingly feeling you get when you exfoliate? That's your hair follicle being unblocked and stimulated, allowing your hair to grow stronger and healthier.
Increases and improves blood circulation: Your blood carries all the lovely nutrients and oxygen around your body – and your skin loves it. Exfoliating encourages blood circulation to your head, so it gets all the nutrients it needs.  This circulation not only brings oxygen and nutrients to your scalp but also removes toxins and pressure that can cause tension!
Helps to get products in and out of your scalp: Not only do scalp brushes remove the leftover products that can lead to dandruff, but they can also help apply products – from oil treatments to anti-dandruff shampoos – deeper into your scalp.
Conditioning the scalp to avoid flaking and dryness and itchiness: Every time you massage your scalp, you distribute your hair's natural oils evenly, giving your scalp that much-needed moisture that will reduce itchiness.
Helps strengthen roots: strengthens your roots and encourages your hair to grow thicker and healthier!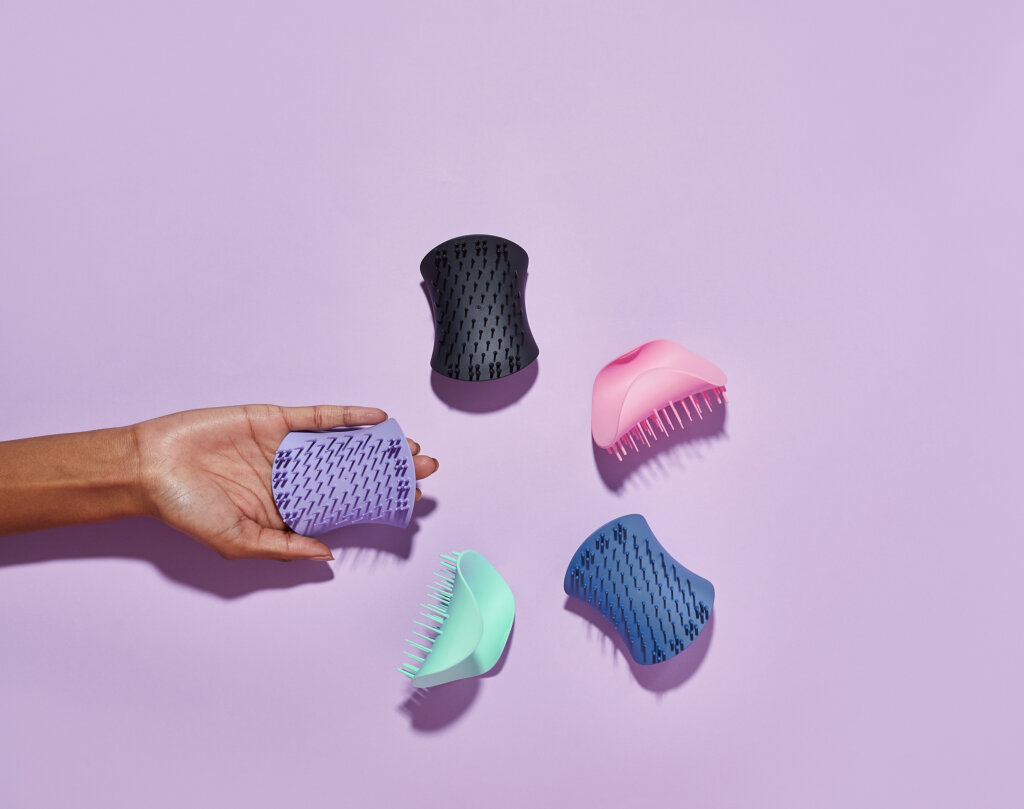 How do you use the Scalp Exfoliator and Massager brush?
If you're new to the world of scalp brushes, let us walk you through it. If you want to give your scalp a detox, use it with a shampoo or scalp treatment on wet hair. Apply your chosen products, then grab your Scalp Exfoliator and Massager brush and use in circular motions (or sweeping strokes from the front of the scalp to the nape of the neck, if you prefer) to really work the products in – and then rinse as normal.
Whilst you can use the Scalp Exfoliator and Massager brush as often as you like – Tangle Teezer recommends once a week. Whilst scalp exfoliation is great for reducing dandruff and soothing itchy skin, you don't want to over-exfoliate and irritate your scalp even more. If you notice you have damaged skin or suffer from conditions like psoriasis, we would suggest taking a break until your skin is healed. Also hot tip – never use their scalp brush with heat, this is more about self-care than styling.
How do you massage your scalp?
If you find it difficult to recreate that salon scalp massage effect, Tangle Teezer's Scalp Exfoliator and Massager brush is the perfect way to give yourself brain tingles from the comfort of your home. Whilst they recommend exfoliating your scalp in the shower, so all those dead skin cells and product wash away, a scalp massage can be enjoyed on wet or dry hair. Simply take your brush and press down on the scalp to stimulate your pressure points (and get those brain tingles going!). They find the most effective pressure points are at the base of your neck and your temples but you might discover a new way to hit the spot that works for you! Listen to your body and apply as much pressure as you feel comfortable with – we recommend massaging for at least three minutes but you can massage for as long as you need to clear your head and feel super relaxed!
Available in five trendy colours; Pretty Pink, Lavender Lite, Onyx Black, Mint Green Whisper and Coastal Blue, the Tangle Teezer Scalp and Massager brush retails for RSP R230.00.
To find your nearest stockist, please visit www.haircair.co.za or email [email protected].
Facebook: Tangle Teezer South Africa
Instagram: @tangleteezersouthafrica