Well, well, well. It has been forever since I did a food review on here! I love food. Like, I LOVE FOOD, but I don't use my blog as a platform to talk about food because I have always thought it was an odd pairing (food and beauty, that is). But over the last two or three years (seriously, it has taken me THAT LONG) I have been receiving weekly, almost daily, messages from people asking after dishes that I show on Insta stories.
No matter where I am, what I am eating, what I am drinking, I make sure to post onto my Insta stories and the requests I get for restaurant reviews have been huge. So here we are!
A few weekend ago my manfriend and myself decided to take a day trek to Stellenbosch for lunch.
REAL STORY: What actually transpired is we had planned a week in advance to go to Franschoek for lunch. "We will leave at 12PM sharp" says manfriend. "No problemo" was my response. As we are walking out the door (literally, I was grabbing my car keys) manfriend asks me if I know how to get to Franschoek. The look of shock and dumbfoundedness on my face told him all he needed to know ("babe, why-ever would I know how to get to Franschoek"??) so he opened up Google Maps and this is when we (he) realized Franschoek was a 90 minute drive away from where I live.
I KNEW it was a 90 minute drive away. True, I may not have known how to get there but I did know it was a pretty far drive. Manfriend then decides this is a preposterous idea and we cannot possibly drive so far for a lunch that is not even a special occasion. Him driving to the winelands so I can partake in what fine wine the winelands have to offer just did not cut it in his book.
ANYWAY we get in the car and proceed to drive "somewhere over the mountain" while I am scrambling to find a new restaurant. Let the record state that we had NO RESERVATIONS in Franschoek and manfriend had originally suggested we just "look around and find somewhere to eat". This did not sit well with my anal retentive Virgo-esque personality as is. I had visions of us landing up at the local Spur. "One does not go on a day trip with no lunch reservations" is my life motto. So my nerves were already on end and I now had roughly 45 minutes to find a new restaurant and make a reservation before we arrived. We decide to hit gorgeous Stellenbosch as it was one of those delightful Cape Town days of dazzling sunlight and no wind.
Manfriend wanted a burger (surpisé, surpisé) and I did not care what we ate as long as there was wine. And as it was Stellenbosch, there would be plentiful wine no matter where we went. Google informed us that the title of 'Best Burger in Stellenbosch' went to The Fat Butcher. However we spent my 25th birthday there in August. I cannot speak to the quality of their burgers as I had rump and manfriend had ribs BUT both of those dishes were life changing and I am sure the burgers are impeccable. Moving onto the next best burgers. The Deck at Hidden Valley.
Seriously, just click on this link and scroll down to The Deck's listing. I am not even a huge burger fan and my mouth is salivating as I type this. Now we took a risk driving to The Deck as the website states that the restaurant being open is entirely weather dependent (and one thing that is NOT dependable our side of the world is the weather) and we could not get through on the Overture's telephone line for a good twenty minutes. On the fourth try they answered and – hooray! – informed us that The Deck was open today. Another point is that they do not take bookings, so first come first served.
Please note these images were taken on my phone. Hence the poor quality 🙁 🙁
THE VENUE:
The drive up to The Deck is EXQUISITE. Seriously. My man now thinks I am some travel-foodie guru and that I whipped this place out of thin air. The air was still and serene and quiet when we arrived (around 12.45PM) and the venue filled up pretty quickly thereafter. When I say filled up, it was definitely never at the point where it was too busy or too bustling, just a lovely perfect Saturday afternoon atmosphere.
The pull of "The Deck" is in the name. The restaurant is on a floating deck, unlike anything I have seen in Cape Town. However there is a gorgeous green lawn (picnic blankies included and already laid out) should the actual deck be full. Or should you have an excited child who may run off into the river. There are small and then larger, longer tables on the side of the deck not nearest to the water and we luckily managed to nab what can be described as a "bar seat" along the edge of the river.
One long "bar style" table surrounds the front part of the river – all connected in one long table top – with umbrellas dotted around. If you were to come with a larger group, say 10 or more, I would suggest you get there as soon as they open as you would have to play some Tetris to assure everyone is seated together.
Bertus Basson's latest project, The Deck at Hidden Valley, is incredibly low key and that is what makes it special. – Katharine Jacobs, eatout.co.za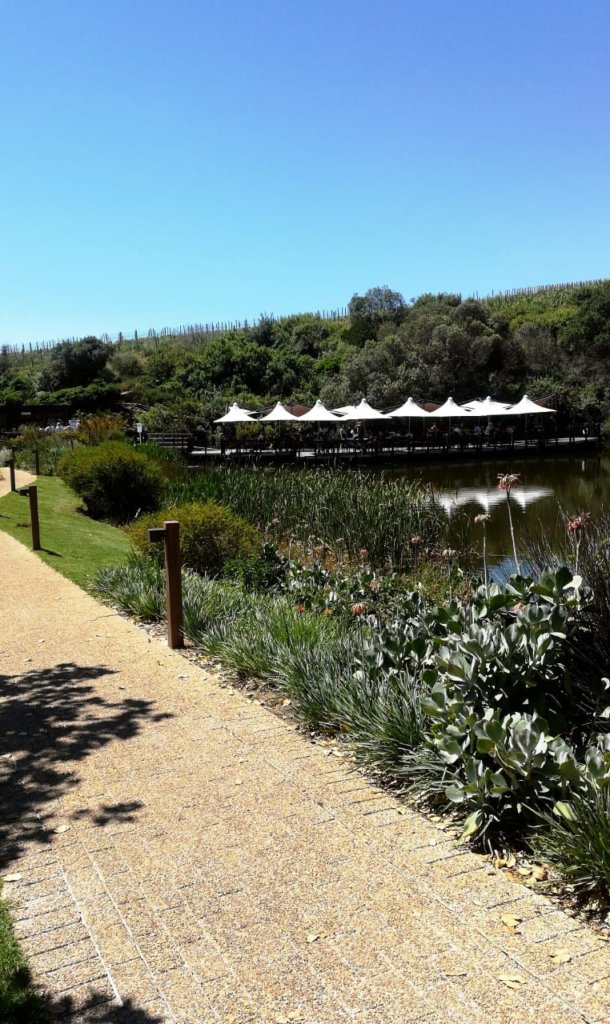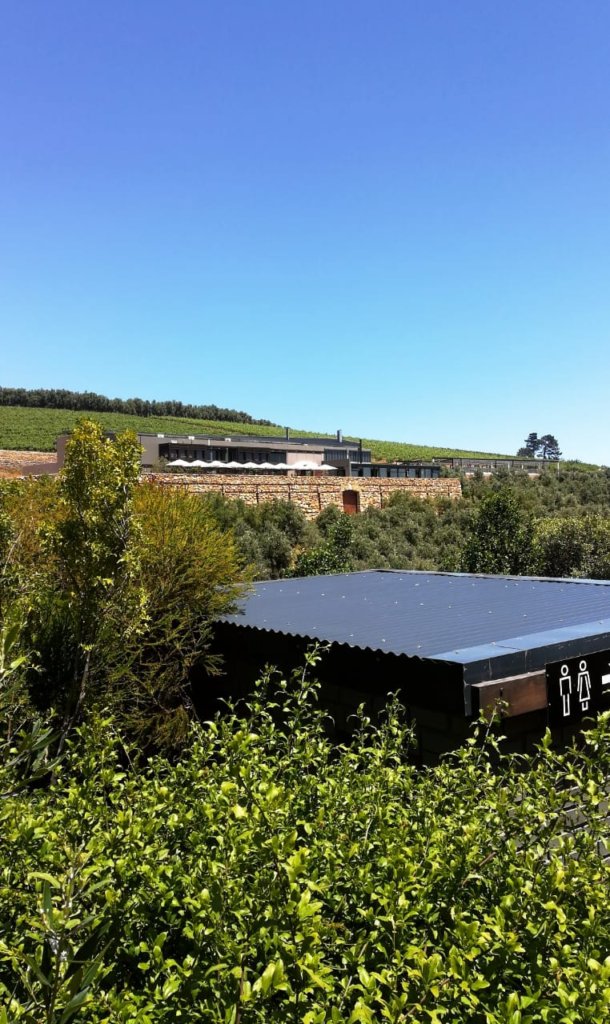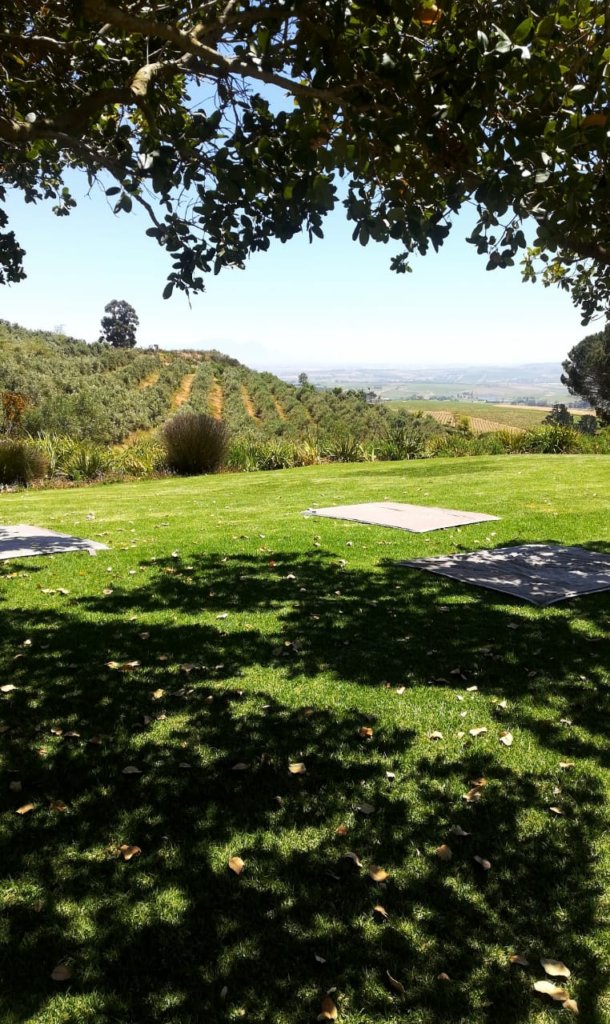 THE DRINKS:
The drink options are straightforward. Hidden Valley Red wine, white wine or rosé. Each priced at R120 a bottle or R40 a glass. We went with the white wine and it was delish. My manfriend split the the bottle with me (boooo) but it shows how delicious it was as he doesn't usually go for wine. There is also water, Appletizer and coffee on offer. I would have liked the wine to be priced lower (well, duuuh) but it was worth R120.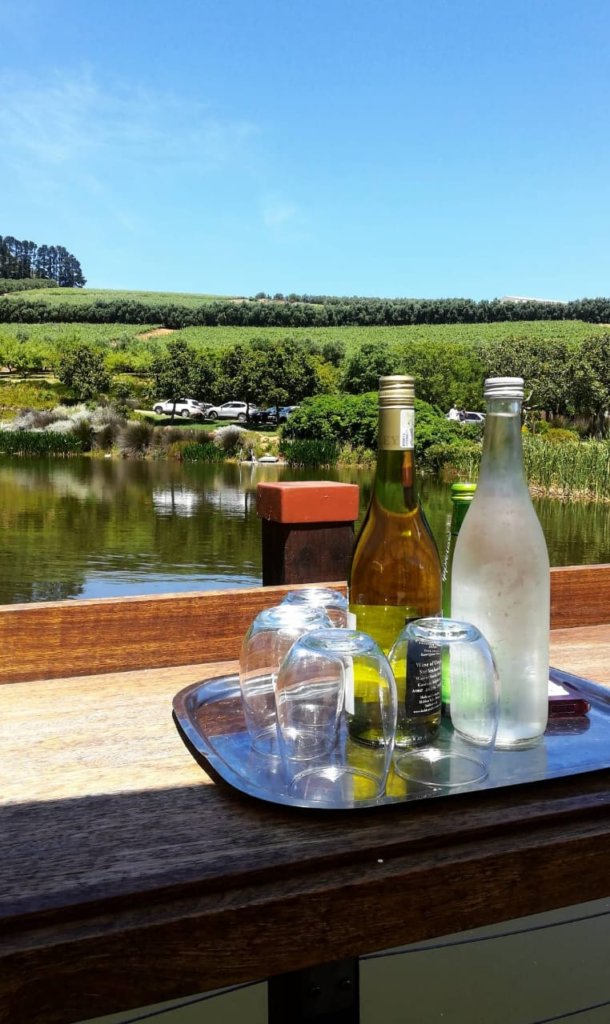 THE FOOD:
The Deck is described as a "self help eatery" but no, you do not actually dish up yourself. How it works is you place your order at a little window/wooden shed thingy. Then you are handed an electronic tag and you take your drinks and go find a table. The little tag will start vibrating when your food is ready. Ours took about 10 minutes. Super quick!
The available food is not a long list. In fact, there are only three items on the menu. The burger, calamari and chips and buffalo wings. All served with chips and salad on the side. No vegetarian option as far as the menu board showed (possibly if you request it they could make something without meat or fish?).
I opted for the chili buffalo wings as this is one of my go-to meals and I hope to some day compile a list of THE best wings in the greater Cape Town area. Look at me, back with ONE food post and I think I am little miss connoisseur. Also, you have to walk past the smoker machine (where the chicken is cooking inside) to get onto the deck itself, and the scent is DIVINE. And the taste matched the scent. I could immediately taste the rich smoky flavour.
Manfriend opted for the burger and he said he really could not finish the entire meal just due to it being so huge (not a bad thing at all!). There are also little snacks to choose from instead of a meal; salami sticks, chips, etc.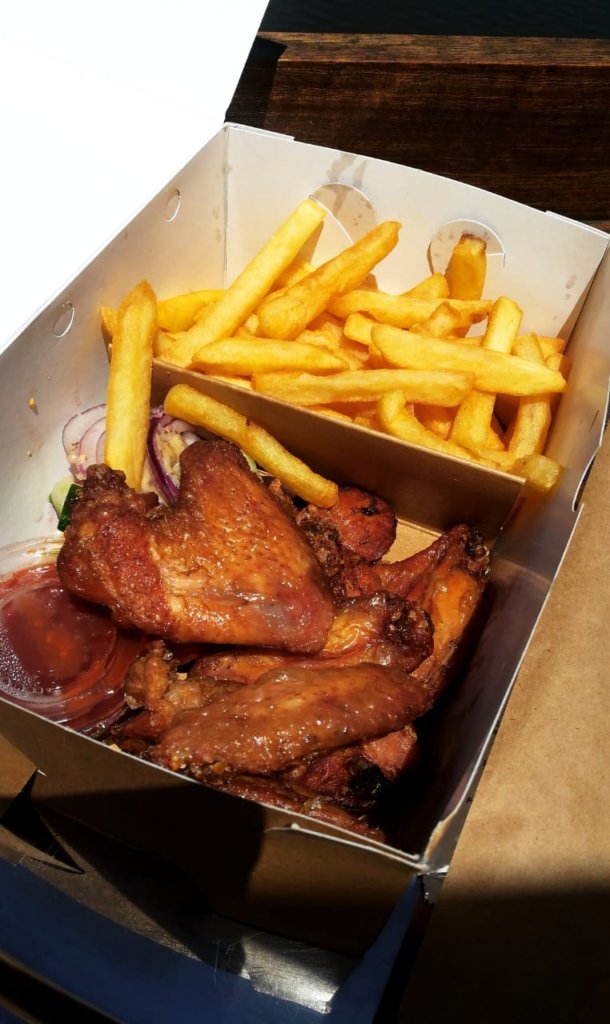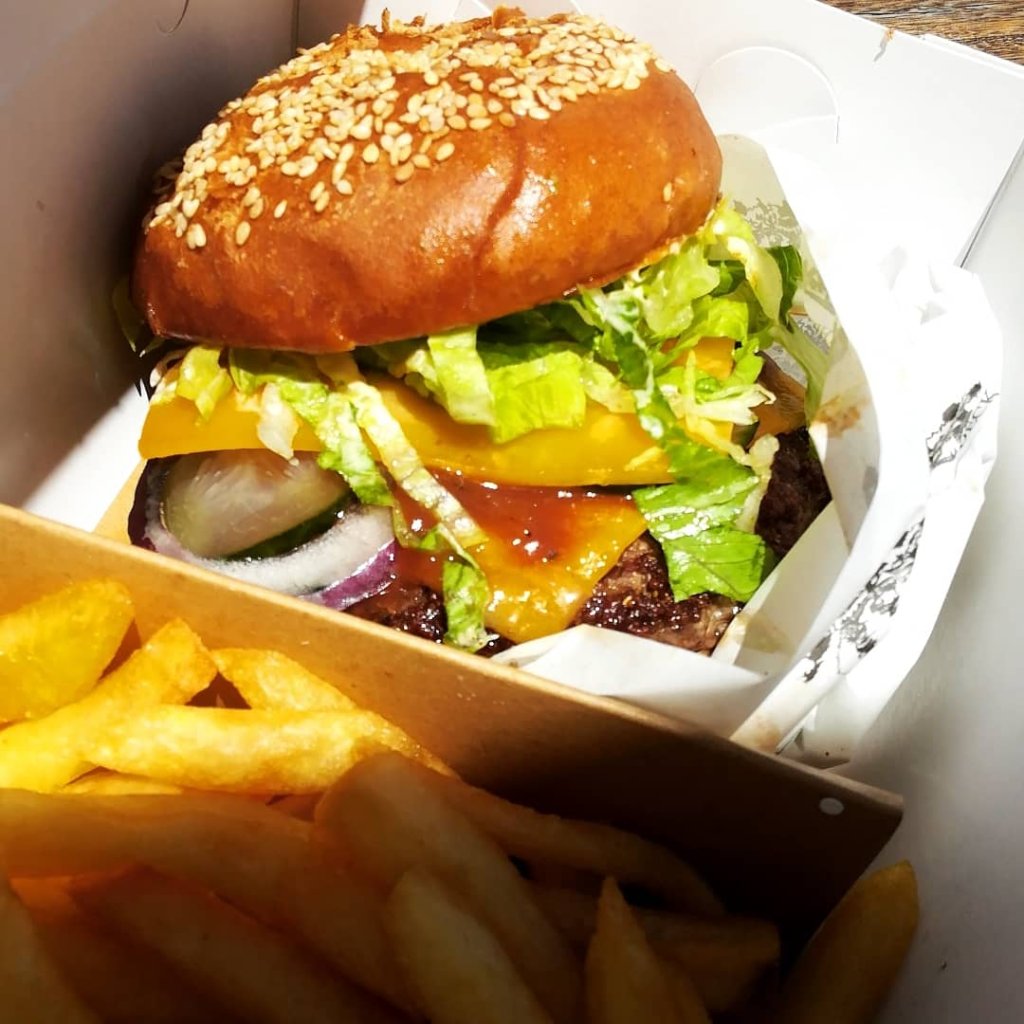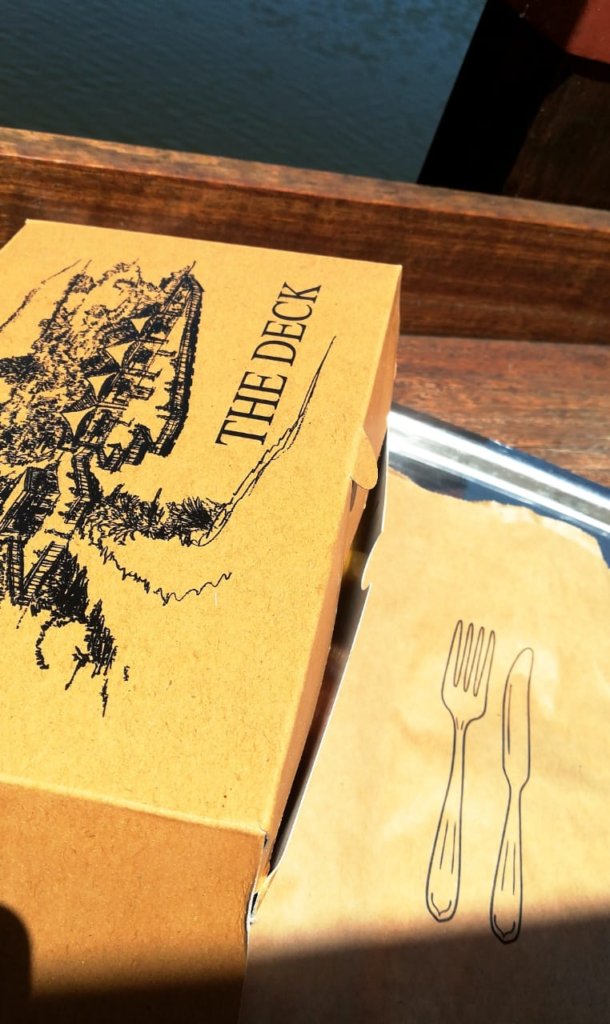 Overall we paid R401 for wine, water, Appletizer and two main meals. A steal! I did not know I would be rediscoverin my inner food guru and therefore did not note the exact pricing of the meals. However I will DEFINITELY be returning and I have already made plans to go back in December when some overseas friends are visiting. Really, I can not rave about The Deck more! If you are looking for a casual, chilled eatery for a weekend day… This is it.
Please let me know if you have any questions that I could answer. Otherwise see their website tagged here for any info you could need. Also let me know if you enjoyed this food review? I would definitely love to get back into them!
Rayne XX