I can not believe I am already writing up another Empties post! One of my 2018 resolutions (well, and one of my failed 2017 resolutions) is to make my damn way through the mounds and mounds of products I have. I seem to get through skincare, body care and haircare items fast enough to pop out an Empties post every three months but I want to whittle that down to every six weeks or so. Make-up empties on the other hand will be months apart… eeek.
Gentle Refining Polish from African Extracts – R79,95

This is one of my favourite face scrubs of all time! And you guys KNOWWW how I feel about face scrubs and exfoliators. I must have featured 20+ on my blog in total. It smells great, it feels great, your skin just feels incredibly cleansed and exfoliated after. It is aimed towards dry and mature skin – but it works brilliantly with my 24 year old dehydrated skin.
Vanishing Cream Facial Moisturiser from LUSH – R375

Wowzers, I must have had this face cream from LUSH for over a year! I wrote a post on it which went live in August 2015 and the empty container has been sitting around forever. Because remember, you can return your clean containers to LUSH and receive a fresh face mask! I am pretty scared to even read the previous post because Baby Make It Rayne tended to be cringey… but anyway, I will link it here if you would like to see it.
It is a super lightweight yet ultra moisturising cream. Originally I found the price tag to be very high but, come on, this 45g tub lasted me AGES. It also smells divine and, as is usual with LUSH, the ingredient list is phenom.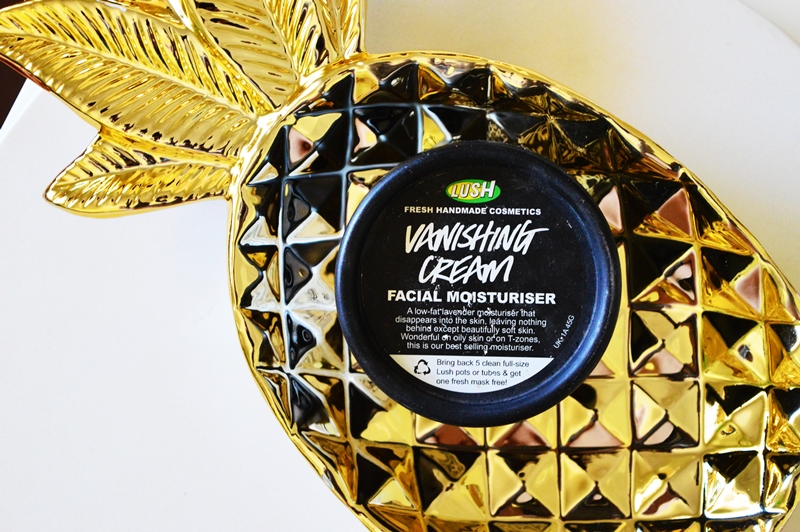 DermoPurifyer Oil Control Scrub from Eucerin – R139,95

Okay so I just said above that the previous scrub is one of my faves but this one is too! If you are after a deep, fresh cleanse then this is it. The scent is addictive and it refines pores and all that good stuff. You can absolutely feel the difference afterwards. I do however find that the price is too high. I would happily pay R140 for a great face scrub BUT I am so accustomed to Eucerin being an affordable brand and R140 is higher than usual for them. Clicks is currently having a 3-for-2 until 23 Jan 2018!
Soothing Moisture Masque from Avène – R230

The year of 2017 was the year that I discovered Avène and along with it I discovered about five must haves! I was very impressed with pretty much everything that I tried and I still have a few goodies on my must-have list.
This thin and lightweight and very liquidy mask goes onto the skin and offers immediate relief to dry and parched skin. It contains a LOT of their ever-famous thermal spring water which is an absolute life AND skin saver in our warmer months.
Hydrating Cream from Avène – R279

In my original over view post of the brand, I mentioned how this cream consistency was as thick as a mask. And the more I have used it the more I have LOVED IT! My dehydrated skin loves me for the fact that I have been slathering it in this extra-thick cream. I definitely think I will repurchase this one.
And there you have it guys – my latest Skincare Empties post! I think this is the first time in my blog history where I super loved each and every product. And I don't foresee that happening again in the near future! Although, to be fair, with skincare products that I do not love, I just discontinue use. With body care and hair care I generally keep using them just so that I do not waste anything! Less waste is one of my 2018 promises to myself.
Rayne XX