Oh heck, Meloncino. What an incredible night! Be prepared for a whole lot of mouth wateringly delish pictures..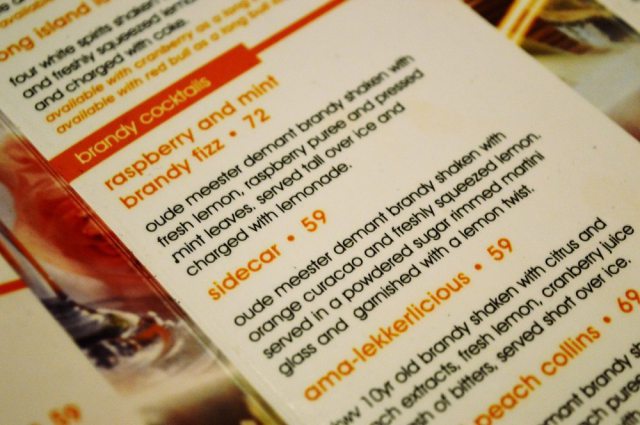 We arrived at Meloncino – the perfectly situated venue – for what looked like a DREAM date.
I dragged my boyfriend along – he didn't like having to get dressed up but he forgave me once the night was through.
We were greeted and seated by the most charming maître d' and immediately served canapes by another member of staff.
We ordered drinks and our waiter then proceeded to go through the mouth wateringly enticing specials; everything from fresh fish caught THAT day to Tiger prawns to freshly made pasta.
Our drinks arrived and oh heck; divine! I – obviously – went with the most luxurious Urban Brandy cocktail available; the Raspberry & Mint Brandy fizz and it was utter heaven.
I had ordered the Carpaccio Di Carne Con Sedano E Parmiggiano (beef carpaccio) starter and I knew the lemonade and fresh lemon within the Raspberry & Mint Brandy Fizz would pair nicely with the tartness of the dressing on the carpaccio, and it did not let me down.
As a result, they are a dream together.
Then I tested my boyfriends cocktail… eeek. I pretty much drank the entire thing.
I decided to be in charge of drinks all evening and ordered him the Ama-Lekkerlicious as he was ordering quite a tangy starter which was the Insalata Di Mare which was a cold seafood salad containing mussels, prawns, octopus and calamari.
He did not realize it would be cold – it clearly states it is cold on the menu – and he was a bit put off but I happily gobbled half his plate down.
I am sounding like a ravenous starving pig but the food and drinks were just too good. Plus I had been waiting all day for this.

Sorry not sorry. And back to that gorgeous Urban Brandy Ama-Lekkerlicious!
It contains KWV 10 years old brandy, citrus and lemon juice with bitters and served in a short glass. MAJOR deliciousness paired with seafood!
We then went into main courses and we painstakingly made our cocktails last to halfway though dinner.
I finally went with the creamy gorgonzola gnocchi which really was everything you could want on a Winter's evening.
I chose to pair it with the the classy Sidecar cocktail which is served in a sugar rimmed martini glass.
And damn straight I pretended I was Carrie Bradshaw whilst I drank it.
The Sidecar contains Oude Meester demant brandy with fresh lemon juice and orange curacao.
I cleverly ordered this to go with my dessert too as it is uber refreshing and I knew my desert would be quite rich.
Boyfriend was busy eating the not carb friendly Calzoni – but damn it looked good. Okay, yes, I had a nibble. Or two. Delicious.
And then, finally, dessert. Oh man, oh man. Even before we got to Meloncino I Googled the menu and knew what I would be ordering. The maître d' also recommended it is "the dish" to end your night on.
The Semifreddo Di Nutella Con Panna Di Galliano is a mouthful to say and a mouthful to eat. I mean, it has the word Nutella in it!!
My boyfriends Lindt Souffle with molten chocolate centre was also great, but honestly, we should have ordered the Nutella times two!
To this day, we still chat about that dessert. Anyway, the Urban Brandy Sidecar was the perfect addition to the dessert as it was fresh, zesty and almost cleansed my palette after the decadent dessert.
The final cocktail on the menu was the Demant Peach Collins and it was the perfect end to a perfect meal.
Shaken with peach puree, fresh lemon and ice, it is a sweet and tangy end off without being over powering or too alcoholic for the drive home.
In conclusion, this is probably the gushiest restaurant review I have ever published. However, it is beyond deserved.
Meloncino is a fabulous venue and the detail and thought in the dishes is evident and, therefore, the night is sure to be a winner. I definitely recommend it as a "special occasion" restaurant!
Furthermore, the delicious drinks really do round up the meals and atmosphere of the night.
Urban Brandy certainly do put the utmost effort into their drinks yet they are not overpowering or over the top. As a result, this may just be my new place!
This is the Urban Brandy experience.

It's your time to mix, play and party and share with us, the spirit of the good life and the high life – the Urban Brandy way.
Rayne XX
**Please note that this dinner was sponsored by Urban Brandy in collaboration with Meloncino.