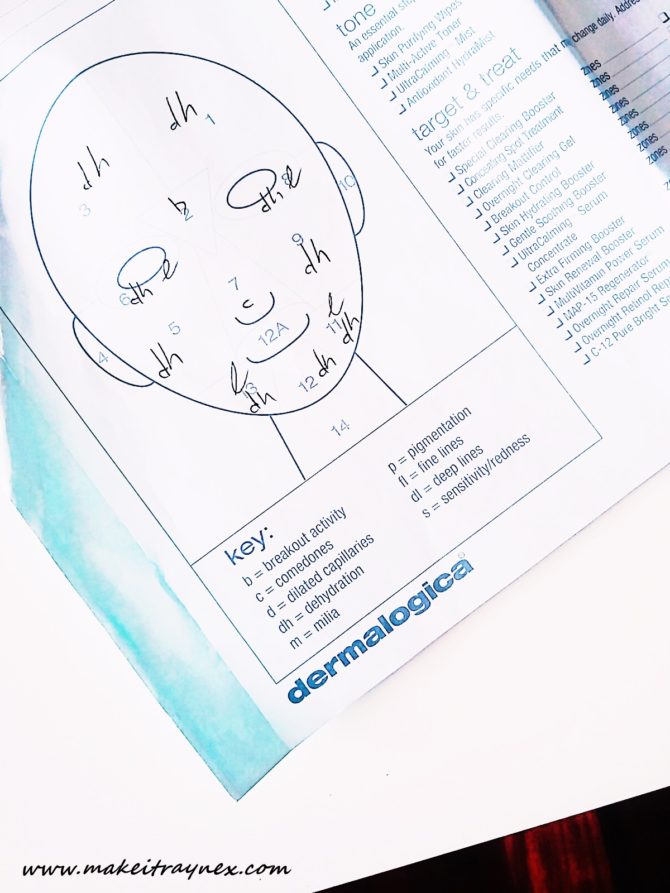 My Face Mapping Session with dermalogica on Wembley – and you can do yours online!
Last week I had the pleasure of attending a preview launch of two new dermalogica products – the release will happen at the beginning of March – so keep your eyes peeled. These are definitely two game changers in the skin world! I cannot say too much buuuut one of the products is a super-version of one of dermalogica's current cult favourites.
While at the event, we were given skin mapping sessions by the dermalogica skin therapists. I wasn't overly interested but because I had just had a weird breakout on my forehead (I never get big pimples), I thought it would be worth having my skin looked at.
Little did I know.. I have been treating my skin as if it is combo/dry for the last few years. However, it isn't dry or combination at all, it is severely dehydrated. And I mean, it is dehydrated EVERYWHERE. They give you a little face sketch which is divided into sections and every one of my sections is dehydrated.
This makes perfect sense as to why I have such deep "fine lines" (isn't that an oxymoron in itself?) at 23. My skin shows the lines as being much worse than they really are because it is so darn dry.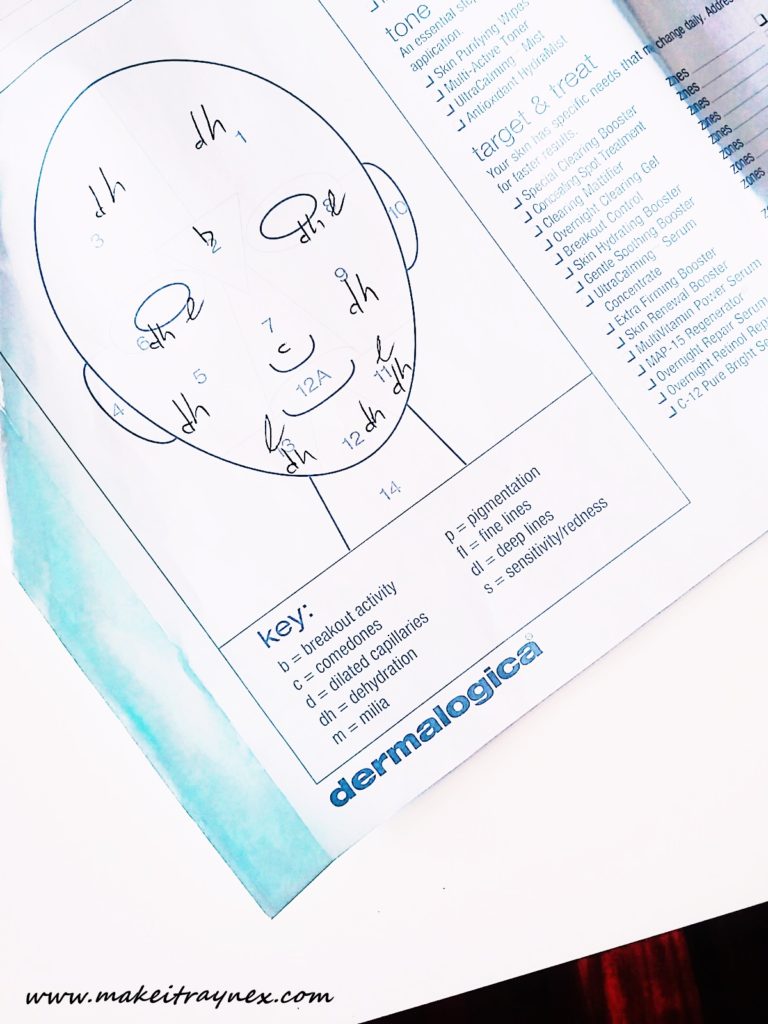 The products that were recommended to me after the Face Mapping was complete were:
A Double Cleanse consisting of the PreCleanse and Special Cleansing Gel, once in the morning and once at night.
The next step consists of one of the new dermalogica releases… my lips are sealed. For now! This would be used once a day, on every second day.
For toning, I was recommended the Antioxidant HydraMist for morning and night, as well as being able to spray on top of your makeup throughout the day.
For the target & treat product I was recommended the Skin Hydrating Booster, to be used at nighttime.
My moisturiser recommendation is the Skin Smoothing Cream for morning and night.
Then for eyes, masques and extra protection I was recommended the Age Reversal Eye Complex, the Skin Hydrating & MultiVitamin Power masques and, finally, the Solar Defense Booster SPF50.
I do already use the PreCleanse and Hydrating Masque and I'll be adding as many of the above products to my skin regime as I can, as soon as possible.
Natalie, the seriously amazing dermalogica therapist, was slightly appalled when I confided that I do not wear spf at all. Well, unless I am literally at the beach. I honestly just did not know when to apply it. She said it HAS TO BE WORN DAILY and it is the last thing you apply before make-up application. Rookie error, Rayne.
You can do a quickie Speed Mapping session yourself online – http://www.dermalogica.co.za/speed-mapping/
If you get the chance, I would definitely recommend popping into the Wembley Square branch of dermalogica to have a proper in-depth Face Mapping done. And ask for Natalie!
Thanks again to the fab dermalogica team for an amazing event, and remember, keep your eyes open for the latest dermalogica launches coming soon – they are whoppers, you guys!
Rayne XX