Sorbet Scrub Series! WEEK 1 – Smoothing & Energising Body Scrub
It has been ages since I have run a blog series. I am very very excited to start my latest series today; the Sorbet Scrub series!*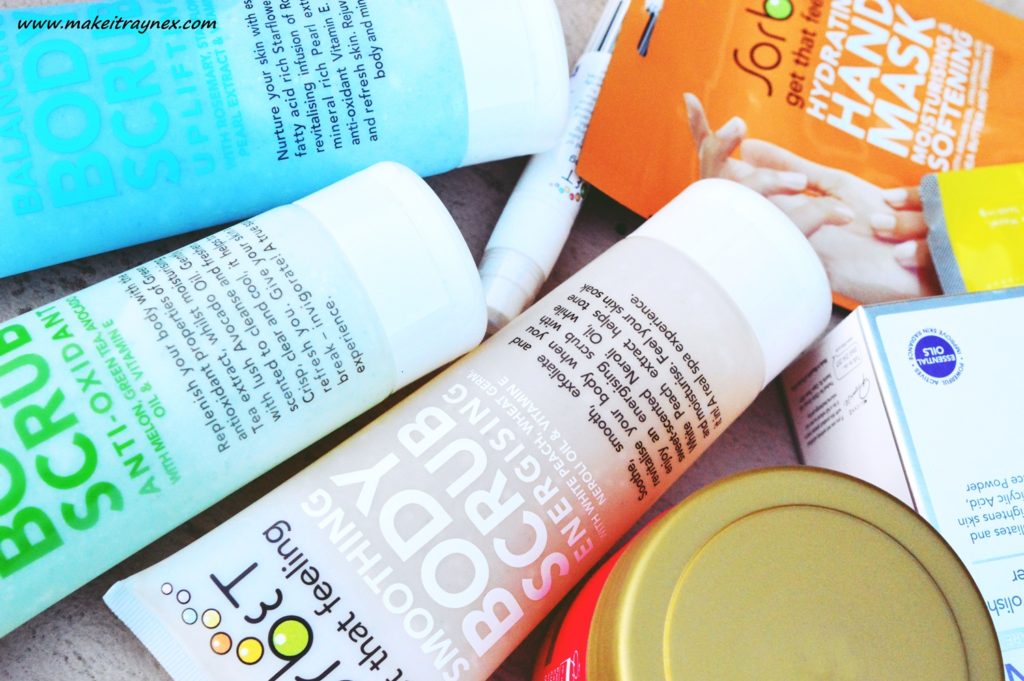 A little bit of info on my new series before I jump right in! When I began blogging, I wasn't super into bathtime products. Granted – I love a good bubble bath now and then – who doesn't? But I was never super into reviewing bathtime products. I now have a bathtime and showertime product collection that could rival the local Clicks store. What you put onto your body in the morning before work and in the evening before bed can totally alter your entire day.
And why scrubs? I have mentioned in skincare and bathtime posts before that I love nothing more than a good scrub. Be is a facial exfoliator, a konjac sponge, a body scrub, you name it, I love it!
So what better than to focus my entire series around the one type of bathtime and skincare genre that I love – SCRUBS!
So, yay, onto my first scrub! Cue the Smoothing & Energising Body Scrub from Sorbet.
Now, the entire range of Sorbet Scrubs are scented and designed around bringing a feeling to your body – Energising, Balancing, Sensual, the list goes on.
Whether you believe in this, or whether you think its more of a placebo effect, it works damn well! This featured scrub is the Smoothing & Energising Body Scrub and the thought that goes into the ingredient choice is detailed.
Neroli oil is one of the main ingredients as it is valued for its healing properties while also adding a light floral fragrance. Trust me, this is no "granny" floral scent that you would immediately think of! Then, Vitamin E is added in for its antioxidant properties which ward of the ageing effects of those damn free radicals. The Vitamin E also aids in soothing,  smoothing, revitaling and re-energising your skin. Remember, your skin is your body's largest organ, take care of her! Then white peach extracts enhance the moisturising and toning aspect and then there is some wheat germ thrown in for good measure!
Then, there are beads. Oh, the beads! The teensy weensy little micro-exfoliating beads! There are so many and they give you the perfect body buff! You can see in my super cute (lame?) heart that there are not that many beads but you can definitely feel them more clearly on your skin. I prefer to use this straight on my bare hands are really going at it on my skin. As opposed to applying the scrub onto a loofah or a shower puff.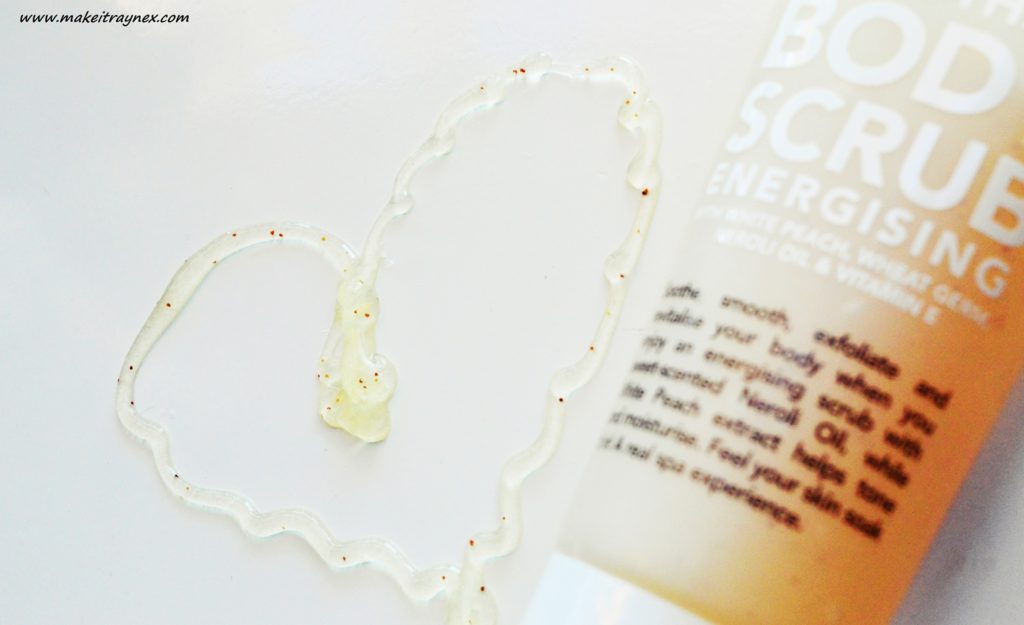 This is – obviously – a winner of a product for your morning shower! However, maybe you like me and prefer an evening shower. Only ONCE a day, guys, don't be wasting unnecessary water! If you are like me and would rather shower in the evening then this would be a goodie to use before a night out. The Smoothing & Energising Body Scrub is specifically designed to engergise and awaken your senses.
Now, at the sake of having an open and honestly blog… I have to say, this Smoothing & Energising Body Scrub is divine and one of my faves of the entire range. However, I adore the scent because it relaxes me! Gasp. What a turn of events.
But it is true. I used to do yoga where we rubbed neroli and white peach flavours onto our temples and, to this day, those scents always calm me down. So of course this is totally out of the ordinary to what you should achieve from the scrub. But it is such a gorgeous scent and I don't care that it relaxes me. In fact, I love it! It doesn't put me to sleep but it definitely calms my senses whilst still "revitalising" me enough that I  can sit up and blog for a good few hours in the evening. Yay yay. Nerd alert.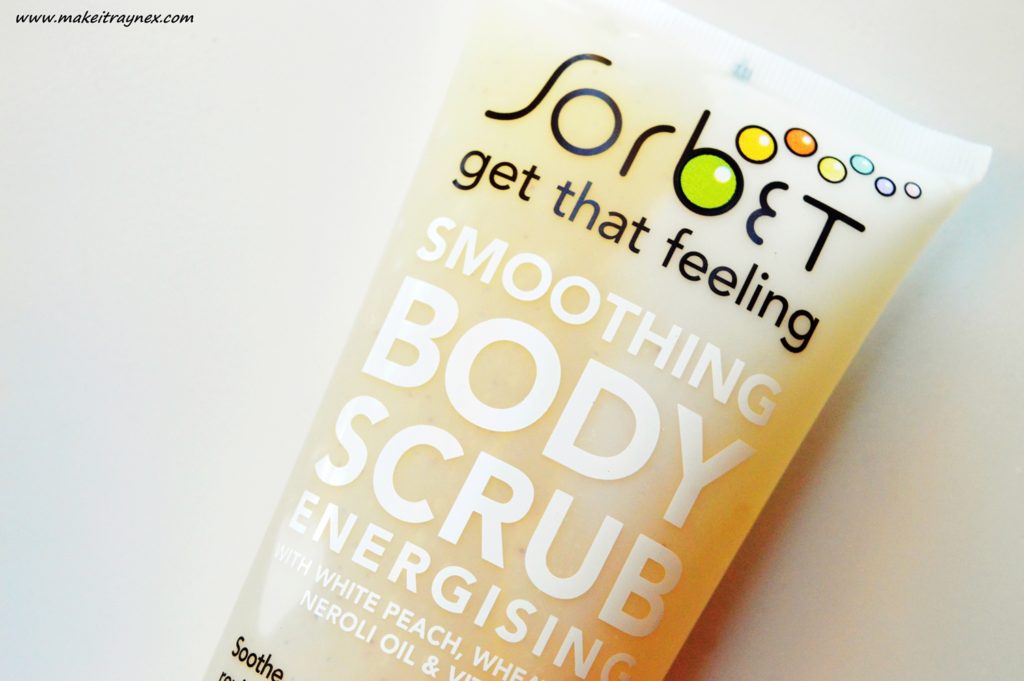 Another few positives before I wind down this gushy review. Firstly, the tube size is 200ml which is a nice heft size. I don't even mind the boyf stealing a few uses. And secondly, the price. ONLY R45, people. YES. All the in-house Sorbet branded tubes of body scrub are only forty five randaloolas. That means you can buy..oooh.. a LOT!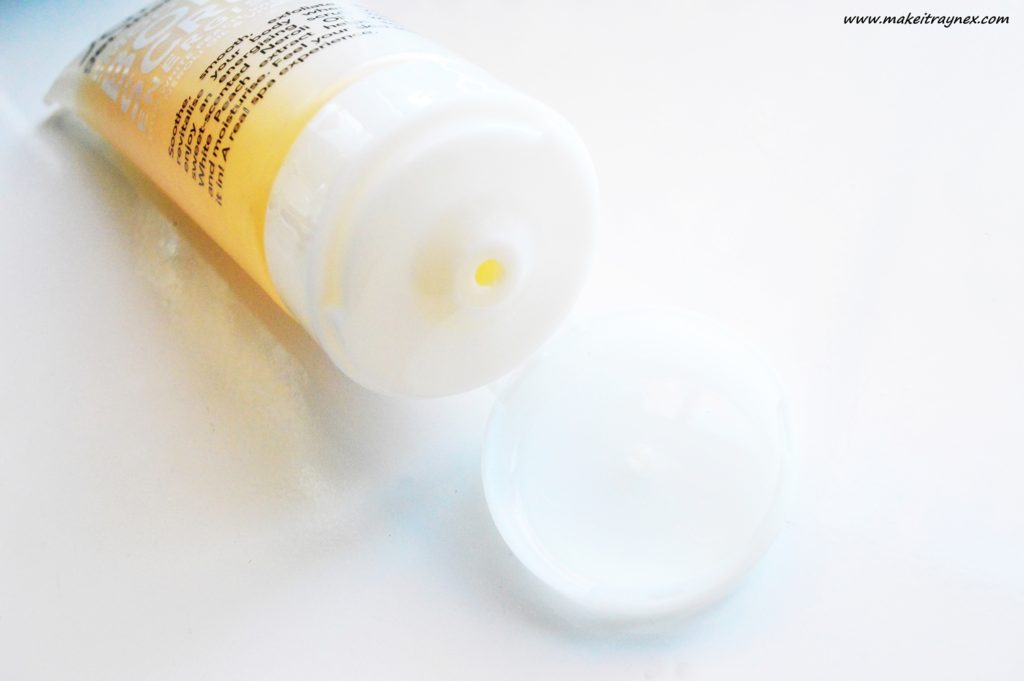 So now I am going to end off this very very long post. Who would have thought I could write so much about one bath product? Definitely not me this time last year! At the sake of being perfectly honest and un-biased, I will be using and reviewing one Sorbet scrub a week and giving an honest review on each. Not swapping out or picking and choosing each week.
Let me me know in the comments if you also love this scrub? Are there any other Sorbet scrubs that I MUST try?
*The Sorbet Scrub Series is run in collaboration with Sorbet Sun Valley. You can give them a call on 021 785 2767 to make a booking! Located in the new Sun Valley Mall.
Rayne XX