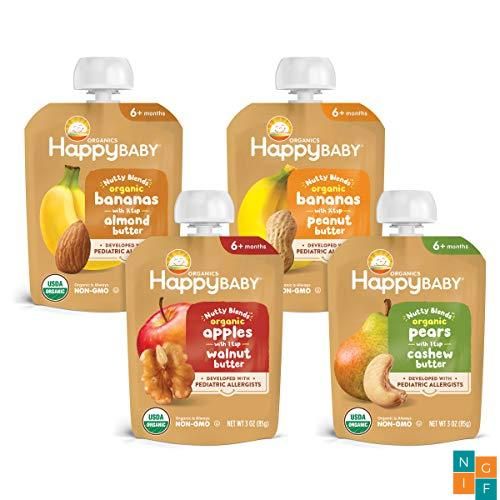 The new Nutty Blends™ pouches from Happy Family Organics!
The Happy Baby Nutty Blends are delicious purees of familiar fruits mixed with peanut & tasty tree nuts – our recipes use walnut, peanut, almond, & cashew butters! Developed with pediatric allergists for a convenient way to include new nutty tastes in baby's diet.
We blended familiar fruits with 1g peanut or tree nut protein to provide a smooth, easy to swallow puree to help you feed baby new nutty tastes! We created Happy Baby Nutty Blends so you can conveniently introduce baby to peanuts and tree nuts, one at a time, and continue to include them in baby's regular diet.
Happy Baby Nutty Blends are produced in a separate facility from our nut-free pouches. Always consult your pediatrician before introducing allergens to your baby.
RECIPE INSPIRATION: GRILLED NUT BUTTER & BERRY SANDWICHES WITH CHIA
How to make it:
In a bowl, combine the strawberries, blueberries, raspberries, and chia seeds. Using the back of a wooden spoon or a potato masher, mash the berries until they are juicy and well combined.
Lay out the bread slices on a clean, flat surface. Divide the berry mixture between 2 of the slices and spread to cover the entire surface. Spread half of the nut butter onto each of the remaining 2 bread slices. Invert the slices onto the berry covered slices to form 2 sandwiches.
Lightly spray a large frying pan with non-stick cooking spray and place over medium heat. Toast the sandwiches, turning once until golden brown on both sides, about 6 minutes total. Transfer the sandwiches to a cutting board and let cool slightly.
Cut each sandwich into quarters and serve with Greek yogurt for dipping
All Happy Family and Happy Baby snacks and meals are certified organic, GMO free, with no artificial colouring or flavourants.  Their recipes are enriched with superfoods, nutritious whole-grains, and essential vitamins that provided optimal nutrition at every stage of your child's development.  The extensive range of products is available at major retailers around South Africa. Keep an eye out for a brand new online store!
Stockists:
Happy Family Organics products are available at Baby City, Babies R Us, Wellness Warehouse, Clicks, Spar, Pick n Pay, Baby Boom, Dis-Chem, Medicare Pharmacies, Takealot, Babies Africa, Faithful To Nature.
Learn more about Happy Family Organics on https://www.happyfamilyorganics.com/ or follow them on social media @happyfamilyorganicssa.