Best stores to hit when shopping for baby clothes on a budget {BABY}
Ahhh. Shopping for baby clothes. The only thing that tops it is baby snuggles and kisses! No matter the gender or age, shopping for clothes for your little one is one of the highlights for any mom. The downfall, sadly, is the fact that we have to spend money on said clothes 😉
Seeing as I have a somewhat extensive knowledge on the matter at hand, I have compiled a list of favourite shops to hit – both on a budget and not. I won't be populating this post with too many images as there are just so many! Instead you can pop over to my Instagram account and check out my 'Baby Clothes' highlight reel. I always make sure to include images, videos and, most importantly, pricing.
Yes, yes. I know I mentioned in previous blog posts that I would have no interest in all the cutie-pie girl clothes.. but here we are. I am obsessed! Let us jump right into it.
PEP 
Starting with the cheapest. Pep has truly been an absolute hit for me from day one. They have a vast range which seems to be replaced with new stock each time I visit.
I was advised to stay away from their plain vests and babygrows but after using a few I can honestly say I am happy with them. The material make-up is less % cotton than other stores but Violet does not have sensitive skin so they work very well.
The baby leggings in the left hand side image cost only R26 and I can assure you that the quality is good enough that I would not know the difference between these and another stores' baby leggings if I was blindfolded!
Best for: Baby grows, sleeping suits, fluffy winter leggings, getting a bang for your buck! 
JET
Jet is another that I could go on and on about. But truly, is there nothing better than walking out of a store with 2 shopping bags and only having spent R500? Jet is one of THE BEST for stretching your rands. I would say 70% of my Instagram highlight reel is filled with Jet items so definitely take a look there.
Best for: Bargains, baby grows, leggings, vests. I can't fault them on any category!
PICK N PAY CLOTHING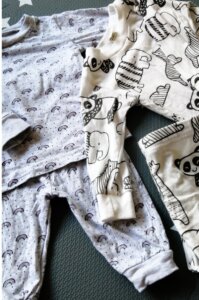 Another MAJOR WIN for me. You cannot go wrong with PnP clothing. In fact, their two piece pyjama outfits (which we use for daytime wear) have had me return time and time again. They also stock the best patterns. Nothing too traditional. Think sweet rainbows, a lot of monochrome and greys, zoo animal patterns. Just gorgeous. The picture I have included is horrific and features unironed clothes but hopefully you get the picture.
Another note is if you like girl dresses then they have really loved ones. When Viley was in her Pavlik Harness we upsized all her clothing and these dresses were a lifesaver.
Best for: Combo deals – lots of 2-for-R60 and 2-for-R90 specials, pyjama onesies, cute patterns. Don't forget to check out the boy section as the majority of the neutral tones are kept on those shelves. But most of all they are best for their two-piece pyjama sets.
CHECKERS
Checkers home brand Jolly Tots is as fab as the two stores above. I actually requested Jolly Tots clothing on my baby shower invite as I was concerned about friends and family buying big-ticket clothing pieces when I was more than happy with Jolly Tots. They have adorable designs, really cute and unique patterns that you won't find elsewhere. Example: I bought Viley a 3-pack of cactus patterned onesies with adorable sayings on them (Can't Touch This ala MC Hammer) for just R99 and the quality is near impeccable.
Jolly Tots are also a winner for bibs. I love the new style of triangle bibs and we have quite a few from Checkers and they have lasted very well.
Best for: Dual pack onesies and bibs.
CLICKS
The Clicks Made 4 Baby range is another major love of mine. We actually did our pregnancy announcement post using a Clicks babygrow. Their plain vests and babygrows are some of the best – especially for babies who are longer and taller.
On top of those two, my ultimate favourite pieces to buy from Clicks are the more interesting items like winter jackets, items with faux fur, and the likes. I have bought Violet 3 faux fur gilet style pieces and the one from Clicks is the only one which can be thrown in the wash with the rest of our laundry and does not need to be individually hand washed. And it comes out good as new!
WOOLWORTHS
As much as I love Woolies, I don't shop there too often for baby clothes but one thing they do the best is their fluffy bear suits (R180) each.
I always make sure to have one in the correct size for Violet and I have already bought her bear suits for next Winter.  And again, the beautifully fluffy material does not ruin when washed in the washing machine nor when tumble dried. They are a real winner!
Best for: These bear suits and their bulk packs of vests – both the short sleeve and long sleeve variations.
KEEDO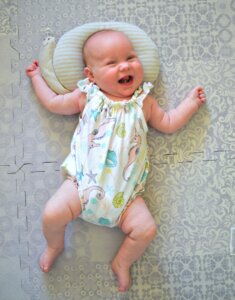 I don't have too many items from Keedo but I have a few night-time zippy sleep suits as well as some Summer romper-style outfits (image to the left) and they are TOO cute!
We definitely had the wrong clothes for the season that Violet would be born into and we pretty much had to squeeze her and her fat rolls into a few beautiful Keedo outfits just for the sake of taking photos.
Best for: Zippy sleep suits – for sure.
BABY REPUBLIC
Baby Republic is a brand new find for me and after posting some pics on Instagram of my purchases I was made to realize that a LOT of people love Baby Republic!
They are based in Access Park in Kenilworth. If you are not based in Cape Town you can still order online. To date they have the best, the softest, the snuggliest plain babygrows and vests and they are the only shop that I have located selling Peter Pan sleeping suits. You know, those old-school outfits with the elasticated backing? They make changing a nappy at night so much easier.
Best for: Peter Pan sleeping suits and quirky slogans on outfits.
COTTON ON 
I always imagined I would dress Viley in predominantly Cotton On items but due to COVID I have barely had a chance to pop into any branches as I live far out (in a far away land called Fish Hoek).
However I have grabbed her a few items online that I just HAD to have. They stock the sweetest old-school, vintage vibe pieces that this child will look too cute in. Think Ghostbusters, Jaws, NASA, Jurassic Park, Metallica, Nirvana and more. We also purchased her the cuuuutest fairy princess dress. For when she is two years old. Sooo that is only in a year and 9 months but hey! Momma instincts took over 😉
Best for: Vintage, old school slogan pieces for the Instagram obsessed mama. 
And there you have it! My favourite places to shop (in-store and online). Please don't forget to share your top picks with me too. This child grows so ridiculously fast that it feels as if I am changing her wardrobe almost weekly! 
Rayne XX