#MyClairesPiercing PLUS a GIVEAWAY {GIVEAWAY}
I had my ears pierced with Claire's last month and I was SO NERVOUS thanks to the fact that I already had a million lopsided holes in my ears. Thankfully Claire's managed to sort that situation out as well as give me a R500 gift card for one of you! Keep reading to find out how to win the giveaway. But first, a story-time of how and why I had such weird earring holes…
I was six years old and petrified. I wanted earrings so, SO badly because every girl in my ballet class had earrings. Looking back, they probably didn't, but you know how a 6 year olds' mind works.
My mom took me to get my ears pierced and, somehow, the movie footage I had recently watched of some or other child star having her ears pierced was fresh in my mind and I was beyond nervous for this giant, hole-creating gun to make an appearance.
I moved on the first go. Yup, I moved and thus created for myself one very weirdly placed earring hole. The poor, poor dude piercing my ears. To this day I can still remember him telling me it was okay for me to decide to come back another day. But I was adamant. Even then in my six year old mind I can remember telling myself that I would soooo regret it if I didn't go through with the piercings. Okay I was probably telling myself I couldn't back out because of all my bragging.. Lest my six year old self arrives at school on Monday WITHOUT the earrings I had been bragging nonstop about.
So I really wanted the earrings but I also didn't. My mom eventually convinced me by promising she would buy me a pack of those stick on earrings (Remember? The diamonds, hearts, and star packs?). So I went through with it and walked out with three and a half holes between two ears. I also walked out WITHOUT those stick on earrings because my mom was all "what do you need stick on earrings for, you've got real ones!". Shameful.
Fast forward 20 years and I decided to rectify the earring placement mishap (have a mentioned that the third hole NEVER closed up?). Having my ears pierced at Claire's is just want I needed to rectify my lopsided holes!
Firstly; the most important Q of all, the pricing. FREEEE. Yep, all Claire's ear piercings are free. You just need to pay for your earring starter-kit and that's that. Pricing begins at R200 (my dainty stars were R200) but there are so many options raging in metal, size and decor.
The earring starter-kit includes a bottle of Claire's Ear Care solution for you to clean the freshly pierced skin with for the next six weeks.

Your piercer will explain the entire process to you, mark out the holes on your ears and let you yay or nay it before proceeding to set up the gun. The gun shouldn't even be called a gun. It is more like a label-maker and not scary AT ALL.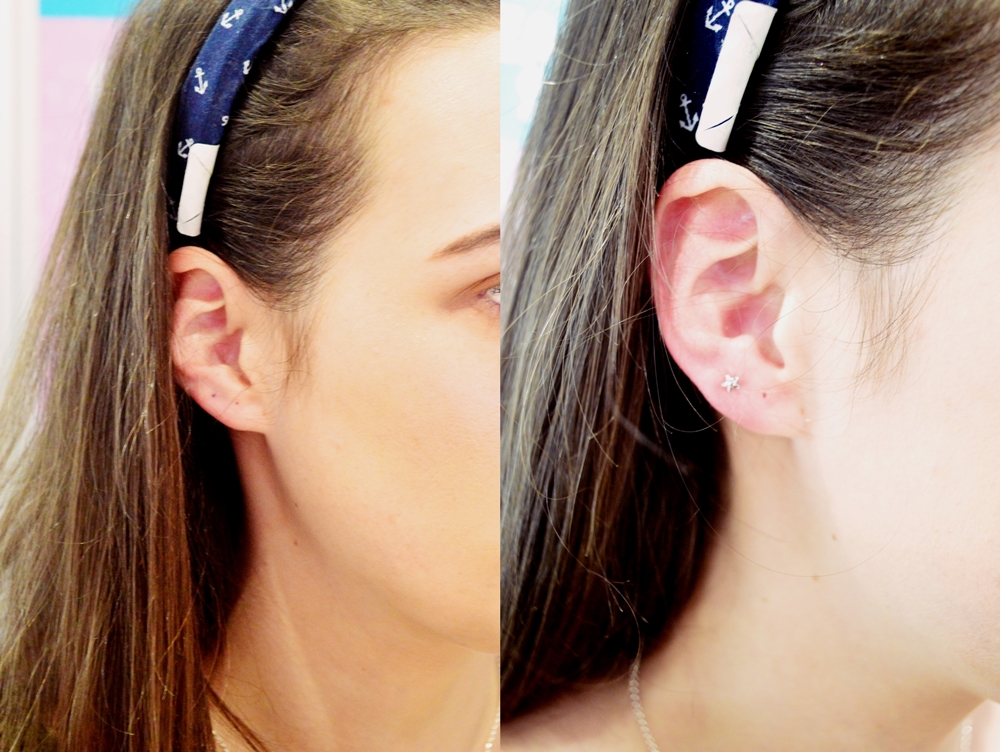 The piercing itself was a breeze. It honestly was a "when are you going to do it" situation. The holes were pierced before I even had the chance to ask to do a 3-2-1 countdown.
All in all it was about a 20 minute procedure. This includes filling in the indemnity form (anyone under 18 requires a parent's go-ahead), drawing on the holes on your earlobes, having the cleaning and healing situation explained and piercing the holes. A HUGE thank you to my piercer Sarah, she was an absolute dream.
After six weeks of wearing the original starter-kit earrings, you can change them out as often as you please. And trust me, those earrings will be changed a LOT. Claire's have some of the most gorgeous, deliciously kitschest earrings available. I walked out of there with three pairs of earrings and I had to hold myself back from buying more.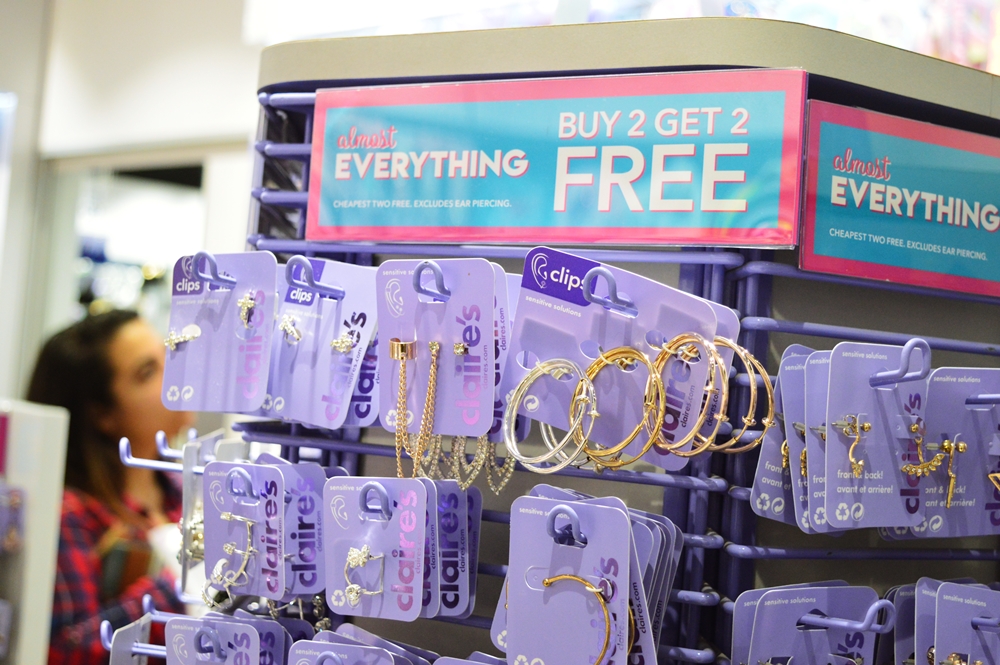 To end off this already fab experience, Claire's has given me a R500 gift card to gift to one of you readers. Comment down below and let me know if you'd spend your voucher on your first piercing, or if it would be second holes. And you can head over to my Instagram and tag a bestie in the comments to gain an extra entry! Winner announced on 21st June.
Rayne XX
**Please note this post and giveaway are both sponsored by Claire's.