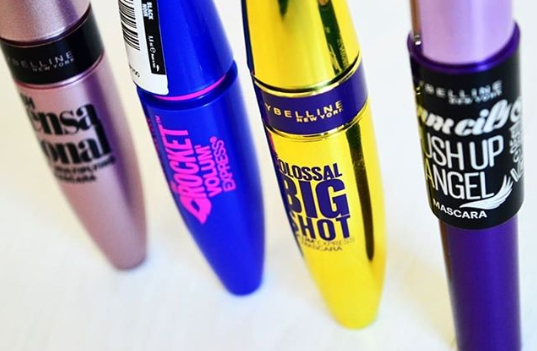 Favourite Mascaras 2019 & how they rank in my mascara collection!
Yet another favourites post where all three items are affordable options! This make's my blogger heart very happy. Read on to see which mascaras I would recommend to absolutely anyone and everyone.
First things first; what do I look for in a mascara? I am that person who always wants bold, defined, extra-va-va-voom voluminous lashes! I do of course love a more simplistic and defined lash if the ocassion calls for it. But usually I wear such simple make-up to work that I love to rev the finished product off with gorgeous lashes. à la Bambi lashes, if you will 😉
Lash Sensational from Maybelline – R160
As I said in my concealer post; Maybelline does two make-up genres extremely well. Concealers and mascaras from Maybelline are always INCREDIBLE. In fact, the Lash Sensational must be one of their cult products. I don't have enough fingers on both hands to count how many of my friends and fellow bloggers would recommend this to you. I give it 11 out of 10 points. Your lashes are completely transformed, there is no smudging, there is no flaking, there is no NADA. The Lash Sensational is an aboslute gem of a mascara which is as easy to remove from your lashes as it is to fall in love with.
I hate nothing more than attempting remove my mascara at the end of a long day or evening and having to struggle with flaky, dried up lashes. This only results in yanking out loads of precious lashes or burning your eyes with harsh eye make-up removers. No thanks!
Glam & Doll False Lashes from CATRICE – R79
Another absolute FAVOURITE (well, obviously, or else it would have no place on this list). But the Glam & Doll is hugely underrated when it comes to affordable/drugstore mascaras. Or to mascaras at all.
As far as I know there are three variations of this mascara but you need to opt for the purple tube. I have been told that the blue is also a goodie – but it does not have my stamp of approval. The same as the above mascara, you are left with gorgeous voluminous lashes and an overall amplified look. And at well under R100 for this option, how could it not be a winner…
L'Oréal Telescopic Mascara – R200
So this option is advertised to contain a "unique lengthening formula". I have no idea what is unique about it compared to any other mascara but it does indeed work like a charm. Out of the three featured mascaras, this gives a more sleek and defined set of lashes while still adding volume and length. I spoke about it in 2015 so I won't reiterate too much – you can read the post here.
Again, there are different options of this mascara and I have been told that the silver tube is a let down. Or at least not as great as the black and gold tube. This is another one that is loved by Youtubers and definitely had it's moment in the sun a couple of years ago. I have not included an updated photo of the Telescopic as I finished my last tube and I am trying so, SO hard to clear out mascaras before cracking open new tubes!
As with all of the other '2019 Favourites' posts, I have to include a few honourable mentions. Mascara options that I would reach for on any given day include; The Lash Paradise from L'Oréal, The Lasting Impression Mascara from Elizabeth Arden and the iconic They're Real Mascara from Benefit Cosmetics.
As always, check out Simone's favourite mascaras here. I find out her favourite products the same way that you guys do. By reading her post when it goes live! And it is probably best that way. Last time I asked for a "sneak peek" of her products I landed up having to write my post from scratch as she reminded me of so many favourites. SIGH.
Let me know in the comment section: did you spot any faves on your list? Let me know if I am missing out on any fab options!
Rayne XX