So I never once contemplated putting up a restaurant review as my blog is beauty based but I am one of those totally uncool people who takes photos of their food – granted it must be gorgeous – and whenever I eat at Salushi I get tweeted asking where I am because the food looks so darn fine.
If you live in Cape Town you will most likely have been to Salushi, and if not, you best get on the phone right now and make a reservation.
I am a sushi fiend and I have been to many maaany sushi restaurants to try and find the best of the best yet I always find myself running right back!
If you are looking for an upmarket yet chilled restaurant where you can order top-notch Asian food, sushi, divine cocktails and amazing desserts then this is the place for you. We are always treated wonderfully, the timing is perfect as you don't wait have to wait ages for your food (commonplace at nice restaurants) and the food.. Oh, the food! Lets just say that when Salushi has their 'All You Can Eat' special we take it to another level. The level being so high that I am shocked they allow us back!
My sushi recommendations would be the Bon-Bons (probably their most well known sushi dish) and the deep fried rolls (also a well known favourite). If you are not a fan of sushi then the Rice Paper Chicken Rolls and the Thai Coconut Prawn Curry are both winners too.
For dessert they offer plates such as Lindt Chocolate & AlmondSpringrolls, Lindt Chocolate Mousse and more. And now I need to stop typing and shut this post down before I tweet them and book a table for tonight!
As for the staff, they are always fantastic and on the ball and they never fail to inform you if something is out of stock or of there is a special running.
They are currently having an incredible special – Choose between two or three courses and only pay R90/R120.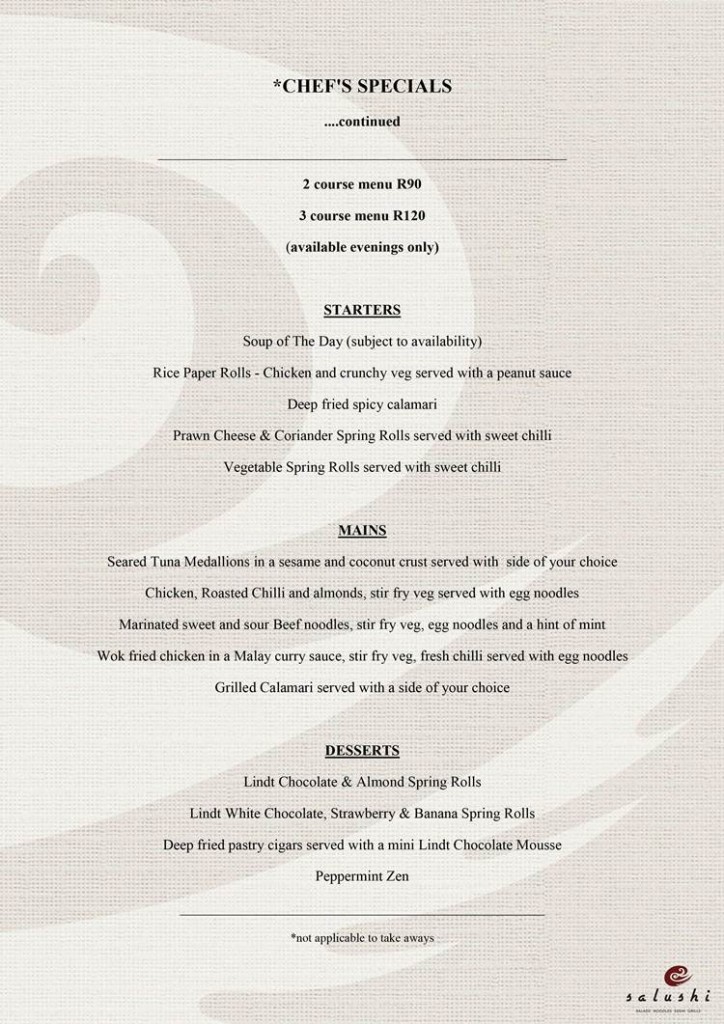 The link for Salushi's menu is here
Their Facebook page link is here
And there Twitter is here. I would recommend reserving VIA Twitter as they are super fast to respond and love to engage with customers!
Rayne XX
PS: Do order a Passion Fruit Cosmo Twist while you're there, and thank me tomorrow.