International Beauty Box Swap: AUSTRALIA – PART 1
Welcome back everyone!
So a few months ago I joined a Facebook site that was created for people to join up and partake in "International Swaps". You could swap anything really, but this group was based mainly on make-up, with a bit of candy or stationary thrown in for fun. The point is to experience these items from different countries, and make some friends along the way, as opposed to paying for boring old shipping costs when importing the items.
It is by far the most well run international swap group that I have come across. There are about five admins who have a tight hold on things and you need to be vetted before partaking in a swap and you have to have your first swap with a member who has swapped before, and your swap cannot cost more than $50. Those are just a few of the first timer rules.
Anyway, I was so excited to get swapping that I found a girl in the first fifteen minutes – YIPPEE! Her name is Lucy and she is from Adelaide in South Australia and she had completed three swaps before – which I had seen pictures of so I knew she was a goodie. I was looking for
an Aussie swapper to begin with as a lot of my favourite beauty Youtubers are from Aus and I had a good idea of what I wanted out of this. You can go into the swap with a full blown list of what items in which shades you would like, or you can choose to be surprised
.
The next step – and a very clever one at that – was to each complete a "Swap Quiz" which is created to find out exactly what your partner wants and doesn't want in the cosmetics.
I have attached Lucy's quiz as an example:
---
How old are you? 24
What make-up do you like? Mascara, eyeshadow, lipstick and primers
What colours do you prefer? Black mascaras, any colour of eyeshadow except blue, nudey pinks/pinky browns for lips. Nothing bright for lips and especially not brown or purple.
What kind of skin do you have? Combination/sensitive
Do you have any specific products you would like? Just anything I cannot get here!
What scents do you like? Anything fruityl and not too much like vanilla or floral
What kind of colours do you like for your eyes? Black mascara and mostly nudes, NO BLUE.
Do you like blush and bronzer? Blush please, only bronzer if it is something you really recommend.
What colours do you prefer for blush? Pinks and peaches, nothing too bright.
Do you want any brow products? No
NAIL POLISH QUESTIONS – we cannot send these from SA to AUS.
Would you like any accessories? Accessories as in brushes and things, yes please!
Do you want to include any food items? Yeah why not, a different country different sweets!
Do you like face masks? Yes I do love face masks!
Which products are you not interested in receiving? I'm not interested in eyeliners, not really bronzers, nail polish and no lip gloss.
---
There were a few more generic Q's about favourite music, TV shows etc etc but I thought I had a pretty good idea of what Lucy wanted, and I was soooo excited to get started. The only thing better than shopping is shopping for someone else! We finally decided on a swap limit of $50AUS (about R474) and to post on the 27th January. We also decided that I would post a day before her as she is an experienced swapper and I was a first time swapper.
I then listed to her which brands we had available, and of course her country had 70% of them so the brands which she picked were: LUSH, Physicians Formula, Borjois, Catrice, GOSH and LA Girl. She did also mention that she would love a M.A.C lipstick, as while they are pricey here at R195, they cost AUS$36 there which is a whopping R350! So even though that would take up a large portion of her budget, it would be worth it.
Something you need to be VERY aware of when doing an international swap in this group is that POSTAGE COSTS FALL SOLELY TO YOU. My package ended up costing R302 for an 800 gram package. The rules of the group are that you have to use airmail because land mail can take almost four months to arrive, and, seeing that our Postal Service is already is such dire straits, it was for the best anyway.
I knew even before I had a partner that I was going to struggle keeping within the budget. I absolutely love buying presents for other people, and even more so when you know that they are sending you a parcel too. Here is a list of what I bought for Lucy, keep in mind I did not write down all the colour names.
1 x LA Girl duo-eyeshadow pod in Caffeine.
1 x GOSH eyeshadow pod in Black
1 x Body Shop Mango Lipbutter
Jewellery from The Journey Store
1 x LUSH Dragon Egg bathbomb
2 x sheets of metallic flash tattoos from The Journey Store
2 x DESIGN eyeshadow quads
1 x UBU Beauty Blender
2 x  Sorbet Face Masks
1 x  LA Colours 3D Blush and Contour palette in Honey Bun
1 x LA Girl Lipstick in Jewel Allure
2 x Luxe Lace Lipsticks
1 x M.A.C Lipstick in Lovelorn
Mini Bubble Chocolate, Chocolate Log, Tempo, Fizzers and Maynards Jellybabies were the sweets that I added. I would have LOVED to send her biltong but Customs would have destroyed the package.
I have attached a picture of a few of her items, I ended up buying loads more and decorating with washi tape and silve crepe paper which I unfortunately did not take pictures of, sorryyyyy.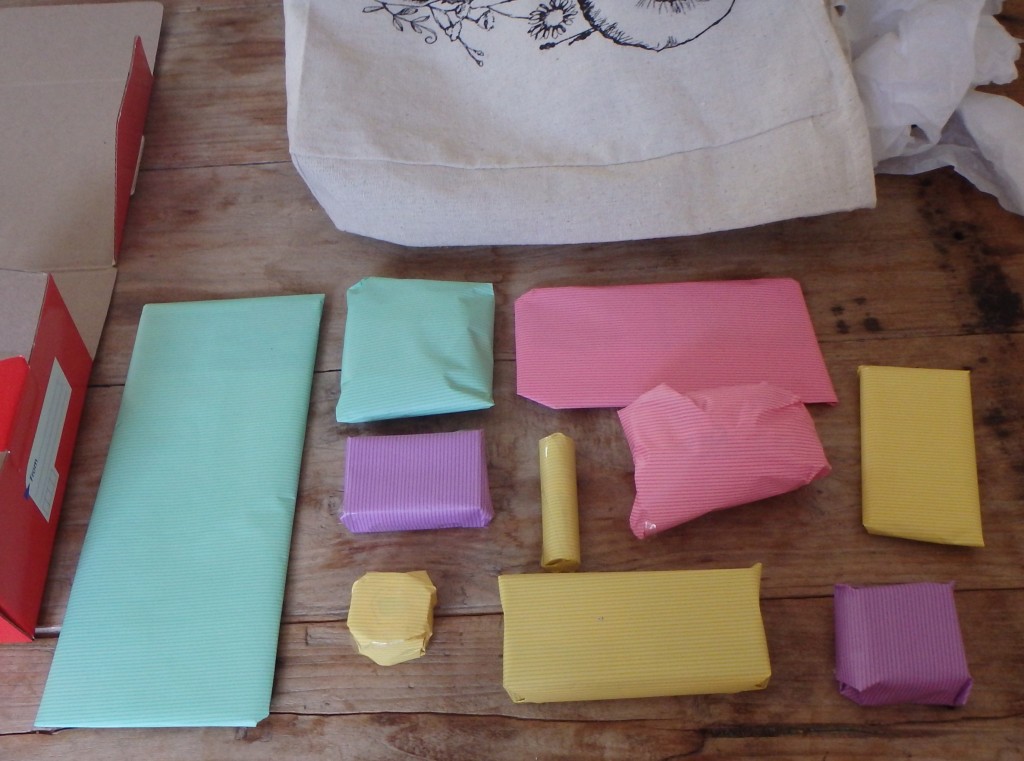 I was soooo excited to post to her but also super nervous. I went over the budget by about R150 and I know that that is how people can get disappointed; but I was so happy to be sending her lovely things and I wanted my first swap to go well so that I'd be able to swap again soon.
I posted her parcel on the 27th January and she received it on the 7th. She has told me she loves everything and the M.A.C lipstick colour was perfect for her! Thankfully so because she gave me a few names of the colour she would like and M.A.C did not have a single one of those in stock
.
As soon as I receive my parcel from her I will have a blog post up AND my first ever Youtube video!
Have a lovey day
Rayne
XX
PS: See what Lucy got me here!